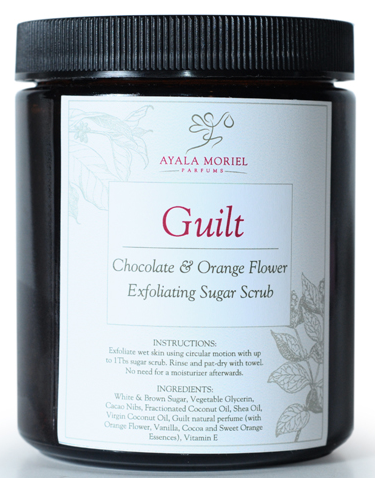 Ayala Moriel Parfums studio at Downtown Vancouver opened to the public in 2007 with on-site fragrance consultations and olfactory and culinary workshops.  The studio is described as a peaceful space that offers a fragrant get away and allows guests to pause and reconnect with their sense of smell as a way to enhance their lifestyle and well-being. The studio is open by appointment only during the week, and also hosts Sunday afternoon tea parties that celebrate scent and sensuality.
Ayala Moriel Parfums recently launched a new collection of all-natural body products including body oils, bath salts, and sugar scrubs that are made from high quality ingredients and are free of synthetic preservatives, dyes, and harsh chemicals.  Sink into a bath with exfoliating sugar scrubs like Finjan, a dark and delicious Turkish coffee scent (made from organic espresso beans) blended with handmade geranium oil and a hint of cardamom, or Guilt,  a combination of orange blossoms and chocolate.
Requesting a sample to review, I was sent a small container of Guilt exfoliating sugar scrub to review. "With its bouquet of chocolate and orange blossom, Guilt is a gourmand perfume to end all guilty feelings surrounding chocolate…"  The scent reminds me of Terry's Orange Chocolate or Lindt Lindor Orange Truffles.  If you're a fan of orange syrup, sugar scents or sweet fragrances, you'll love "Guilt".  I love the oil and sugar texture and the vitamin E helps with moisturizing.  Keep in mind that a little goes a long way, and you only need to use a tablespoon of product at a time.
For more information, visit the Ayala Moriel website at: ayalamoriel.com.