4th Annual Nifty for Fifty Sale (April 3rd, 2011)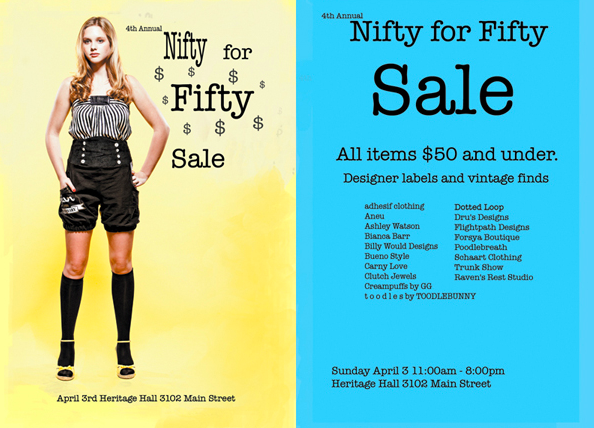 Nifty For Fifty is back for its 4th annual sale on April 3, 2011. More than 18 Vancouver designers will be gathering under one roof to sell everything from dresses to shirts, shoes, and accessories, from sizes 0-24, all for $50 or less.
Don't miss out on this one-day blow out sale at Heritage Hall (3102 Main Street, Vancouver), happening Sunday, April 3 from 11am to 8pm. Bring along some friends and remember to stock your wallet with cash so you don't miss out on the cash-only vendors. Admission to Nifty for Fifty is free.
Brands include; Adhesif Clothing Co., Aneu, Ashley Watson, Bianca Barr, Billy Would Designs, Bueno Style, Carny Love, Clutch Jewels, Creampuffs by GG, Dotted Loop, Dru's Designs, Flightpath Designs, Forsya Boutique, Little Houses, Poodlebreath, Schaart Clothing, t o o d l e s BY TOODLEBUNNY, Trunk Show, Raven's Rest Studio, Unconventional Jewellery, Sola Fiedler, Hawks Ave., and Jacqui Kerr.