Sephora – Limited Edition TokiDoki Eyeshadow Palette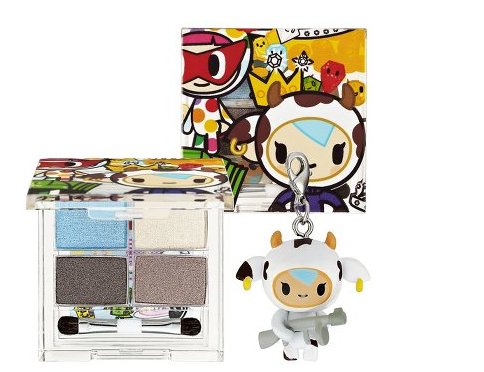 I recently received this cute compact eyeshadow palette from the limited edition Sephora x TokiDoki collection which comes with a collectible keychain charm.  The "Mozzarella" palette (named after the Toki Doki character) consists of four coordinated shades of blue, ivory and 2 x brown. The eyeshadow pigments are formulated with natural rice lipids and vitamin B, so they blend beautifully and hydrate the delicate eye area. The collectible charm is in the bottom compartment of the eyeshadow palette and is sized to hook onto tokidoki key chains, makeup bags, or anything you wish to accessorize.
The character in the image above is named Mozzarella.  He leads the Moofia, a gang assembled to extort milk from the lunchboxes of schoolyard bullies. Mozzarella and the Moofia are loving and kind to good kids, but ruthless and feared by those who harass the innocent.  There are five eyeshadow palettes and keychain characters to collect and they retail for $25 each at Sephora.