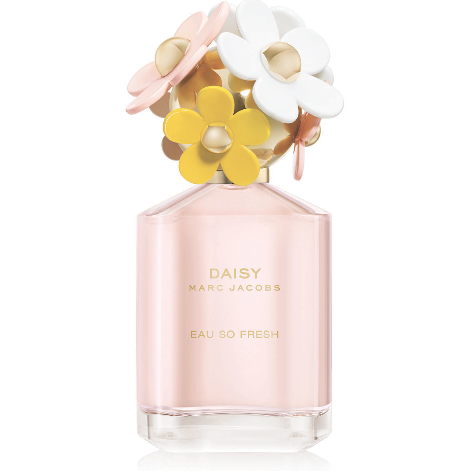 Described as vibrant, charming and whimsical, Daisy Eau So Fresh is the "spirited new version" of the original Marc Jacobs Daisy fragrance. "It transports you to a place that is happy and sunny exuding a youthful spirit with a positively fresh and charmingly simple feeling".  Before even opening my bottle of Marc Jacobs Daisy "Eau So Fresh", I already knew I would love it based on the description of its fragrance notes.  Despite the floral name, Eau So Fresh is actually a fruity twist on the original Daisy fragrance radiating with "crisp raspberry, sensuous wild rose, and deep and warm plum."  I definitely can smell a surprising whiff of raspberry in the fragrance; however, it was one of those times where I couldn't quite put my finger (nose) on what the scent was until I re-read the description.  The overall scent is clean and crisp, and perfect for a transition into the spring season.
Top: Ruby Red Grapefruit, Raspberry, Green Leaves, Pear
Mid: Violet, Wild Rose, Apple Blossom, Lychee, Jasmine Petals
Base: Musks, Plum, Cedarwood
I also think the bottle design is very pretty.  "An over-the-top interpretation, the cap is the bottle's most playful aspect, pushing whimsy to new heights.  The exaggerated gold cap is topped with six pink daisies that are soft to the touch with a pop of neon yellow hidden amongst the daisies."  Never mind that the daisy clusters are made of plastic, the texture of the flowers are made of a soft, bendable rubber, which is not tacky like hard plastic.  The pink tinted glass gives the bottle an aura of innocence and femininity, but the gold centres of the oversized daisy clusters topping the lid add a touch of class and elegance.
Marc Jacobs Daisy Eau So Fresh will be available in February 2011 at Holt Renfrew and in March 2011 at retail locations including The Bay, Shopper's Drug Mart and Sephora.