Mink Chocolates – Valentine's pop-up store at Holt Renfrew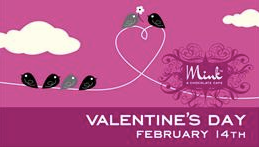 This Valentines, Mink Chocolates, a line of supremely decadent, ultra luxurious high percentage cocoa chocolate bars and bonbons, can be found at Holt Renfrew in a Valentine's "Pop Up" store.  Located on the upper level of Holt Renfrew, directly in front of Prada, Mink Chocolates will showcase their extensive line of hand filled ganache chocolate bars, including the seasonal Romeo & Juliet chocolate bar.  Gift boxes for Valentine's Day include the "Oh, Baby!" romance gift box of six chocolate bars; nine or sixteen piece Artist Series bonbon boxes, and an assortment of small and large hearts with bonbons inside, packaged and ribboned in clear boxes. Hand printed Valentine's Day greeting cards, made especially for Mink Chocolates by truthandbeauty.ca will also be available.
The Vancouver based line of chocolates are made in small batches, by hand, with nothing added to extend shelf life and this Valentines, for the first time, these highly celebrated and unique flavours will be available at Holt Renfrew. Holt Renfrew is known for offering fresh, exclusive surprise selections of products in their pop up stores, and Mink Chocolates was delighted to get the exclusive invitation.
Available:  Saturday Feb 5th through Valentine's Day, February 14th
Hours: Mon- Tues 10am – 7pm/Wed – Fri 10am – 9pm/ Sat 1pm – 7pm/ Sun 11am – 7pm