The New Oxford opens in Yaletown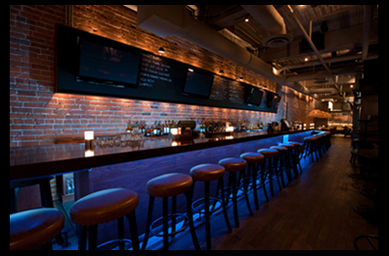 I drive past this area most mornings, and I was pleasantly surprised to find that The Donnelly Group has opened yet another bar/restaurant .  This time, the group brings "its signature style and a little taste of Britian to Yaletown with the opening of The New Oxford" (1144 Homer Street).  Read below for the press release – I hope to check this one out for myself soon:
A tongue-in-cheek nod to both the world-renowned University of Oxford and British sporting culture, The New Oxford sits proudly on the edge of Yaletown, a welcome addition to Vancouver's notoriously trendy neighborhood. Vintage touring bikes line the ceiling, leading the eye to a looming portrait of literary genius, misfit and Oxford alumni Oscar Wilde. A long view of the room – which runs the width of the entire city block – reveals rustic gray millwork, classic pub-style furniture and black & white photos of various other notable Oxford grads. The 50-foot long cantilevered bar serves as the room's centerpiece, leading visitors into a 'study' motif, complete with taxidermy, original-print hardcover books, vintage sporting gear and even more comfortable seating.