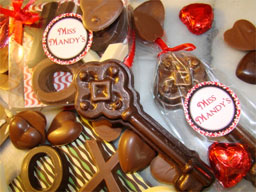 Inspired by farmers markets and Xmas craft fairs, the Baker's Market features talented amateur and professional pastry chefs and bakers who create delicious, edible works of art. Mark these upcoming Saturdays down for "special editions" of Vancouver's Baker's Market (new location: Creekside Community Recreation Centre at 1 Athlete's Way)
Nov. 20 & Nov. 27: delectable goodies like artisanal breads, scones, pain au chocolat, German pretzels, shortbread cookies, Parisian macarons, madeleines, cupcakes, marshmallows, chocolates, biscotti, organic vegan, gluten-free items.
Dec. 4 & Dec. 11: in addition to the above goodies, there will be Xmas and Holiday baked goods, like German Stollen, Christmas shortbread cookies, hand decorated sugar cookies, Christmas fruit cake, gingerbread cookies, gingerbread houses, biscotti, mince meat pies, butter tarts, pecan pies and much, much more.