Bols Liqueur
By Kenneth Law
Peter Van Zelfde has an interesting job, and not just any sort of "interesting job". Like many people, he has an office that he goes to during working hours, wears specific work attire on the job, and has a marketing and development team to appease. Unlike most people, he's also paid to drink while on duty.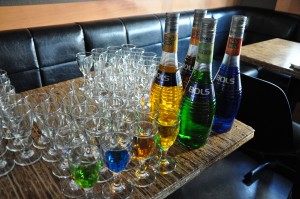 Peter is a lead product developer and research specialist at Lucas Bols, a liqueur and spirits company hailing from Amsterdam. His work involves interpreting flavor suggestions from the marketing team and translating those ideas into tangible product. This leads him to begin his hunt at the local markets, where he stocks up on ingredients that would contribute to the desired taste. Subsequently, he returns to his lab, donning his lab coat and gloves, to achieve the perfect balance of extracts, alcohols, sugars and fruits which he believes will satisfies the tastes of the consumers. All of this involves heavy sessions of taste testing – but let's not confuse indulgence for work as Peter still does this for a living, where he can be seen as part chemist, part chef.
Modern Mix Vancouver was recently invited to sample some of his work at an event held at the Refinery, a legitimate venue for serious connoisseurs replete with a healthy stock of beverage selection. Vancouver happens to be the first leg of Peter's cross-Canada tour to promote Bols, and he claims this is his first time doing such an activity for the company and that it is out of his element. That wasn't evident as, grinning with enthusiasm, Peter took no hesitation in describing his involvement with the Bols brand.
At the event I sampled several of the Bols flavors, including cherry, apricot and banana. I preferred them straight and wasn't particularly satisfied with how they were mixed, but their versatility and the amount of flavors available (around 5-10 in Canada, 36 globally including a green tea flavor in Japan) should ensure they have something for most people.
We also wanted to pass on this little piece of information for bartenders and mixologists (aspiring or otherwise):