Julie Hewett "Cheekie" – available at Wish.List boutique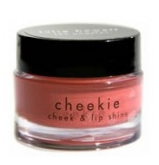 When Wish.List Boutique opened at Broadway and Mcdonald a year and a half ago, I remember spending lots of time carefully examining every pretty item available in the store.  From candles to cosmetics to fragrances and jewellry, each item is carefully chosen by boutique owner Alisa Westfolk.  I wouldn't be surprised to find some rare gems in the pretty product mix … such as the cosmetic line by celebrity makeup artist Julie Hewett (Los Angeles).
After reviewing multi-purpose products like Stila's Yumberry Crush (cheek and lip stain), I've been quite open to trying other multi-purpose cosmetics to compare.  Cheekie is a sheer hue "cheek and lip shine".  I tried it in "Natural" which is a "twiggy pinkish beige" and "looks beautiful with smokey eye makeup".  Seems like a fairly versatile shade – the description I received in the mail claims it's great on blonds, but I thought it looked fine on me (Asian skin tone, black hair) also.  The texture is creamy and reminds me of lipstick, but melted into a pot and doesn't seem to dry out my lips.
One thing I didn't prefer about the product was the pot it came in – it's a little bit deep and hard to get enough of the pigment onto your finger.  Consequently, I would recommend using a make-up brush with this product – but that takes away from the convenience factor.
Cheekie is available at Wish.List Boutique and retails for approximately $25.