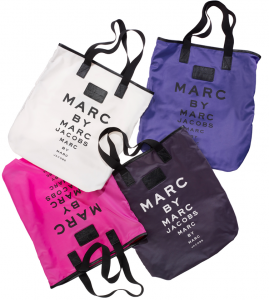 Designed for Holt Renfrew, check out these limited edition Marc by Marc Jacobs tote bags.
The Marc by Marc Jacobs tote is the perfect accessory to compliment any wardrobe, for work or play. Made of durable nylon and with two sturdy straps, the tote is both fashionable and functional, fitting comfortably over the shoulder and ideally shaped to carry textbooks, magazines, files and more.
These will only be available in-store from September 30th until October 10th (or while quantities last). Priced at $48, a portion of proceeds will go to Vision Spring, a non-profit organization providing low-cost eyeglasses to the developing world.  For those who are eager to reserve their bag, visitors to HoltRenfrew.com can reserve their totes online, with a choice of colour and preferred store for pick-up.  Online reservations are available until September 26, 2010.