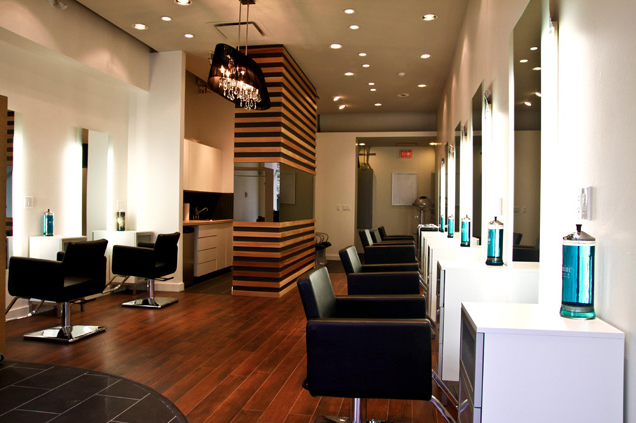 Mousse Salon (2641 West 4th Avenue) opened earlier this year in Kitsilano and I was the grateful recipient of a haircut with one of the owners, Donald Chu. In his new modern (but earthy) salon, getting my hair layered and my bangs trimmed, I felt right at home chatting with Donald about his industry experience, hairstyling products and his vision for Mousse Salon.
Hair design stylists, Donald Chu and William Cheung have been in the industry for over 10 years. Both having held chairs in some of Vancouver's most upscale prestigious pampering salons. They have mentored under some the best names in the hair industry. Both resumes are extensive and outline meticulous training coupled with grand experience. The recent opportunity for both stylists to showcase their talents in a new and fresh environment has finally arrived…
1. Tell Modern Mix Vancouver a bit about Mousse Salon – what's your hairstyling background and why did you decide to branch off and start Mousse Salon?
We all went to VCC and graduated. Afterwards, we went to Hennessay Salon to progress further in training for cutting, and colouring.  In addition we had the honour to learn from RedKen's colour master class to enhance our colouring skills.
2. What was the inspiration behind the decor at Mousse Salon?

We wanted a modern contemporary look so that our clients get a warm and bright trendy atmosphere.
3. Why products do you use at Mousse Salon (ie. Kevin Murphy) and why did you choose that line of products?

Kevin Murphy is an editorial stylist, the brand sells itself.   These hair products are Paraben and sulphate free, which are more green friendly products compared to other brands.  After styling with Kevin Murphy products, you would feel the product lasting the entire day. At Mousse, we believe and share the same vision and confidence in Kevin Murphy product lineups.
4. How do you keep yourself up to date with the latest hairstyle trends? And what are your predictions for upcoming hair trends?

Reading fashion magazines and observing new hair trends from celebrities and other parts of countries.  I would say females are shifting towards short hair styles.  Short hair would provide more structure/ flexibility and offer the simplicity to suit various activities and events. In this generation, people are much more active and involved in many activities where short hair stands out from the traditional long hair styles.
5. Any last words for Modern Mix Vancouver readers?
Have you tried our Mousse experience? Mousse salon is a place where everything is about you. For every visit at Mousse, we offer a relaxed and positive environment where you can enjoy every moment while we design your hair. We love to get to know you and most importantly, to make you feel and looking great at the end of the day.  Come check out Mousse and enjoy the Mousse sensation. You will definitely not regret your visit!