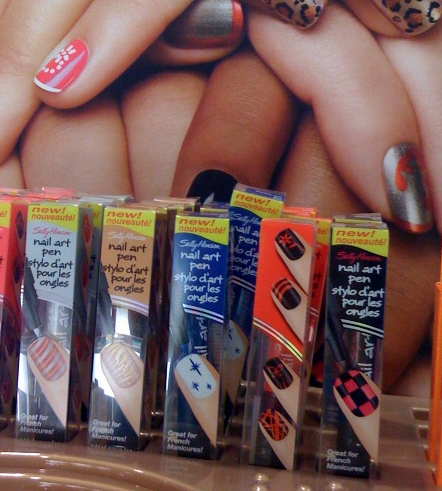 I saw some Sally Hansen nail art pens at London Drugs the other day. Thought it was cool how they came in 8 different colors – white, black, light pink, hot pink, blue, red, silver and gold. The packaging has inspiring looks about what you can do with your nail art pen – from a black/red checkerboard pattern, to flowers, to diagonal stripes and stars.
Developed to dispense just the right amount of color, the precision-tip pen helps you instantly customize your nails and toes so you can design and go. Create styles seen on celebrities, nail art websites or your own styles – the options are endless. Just press the pen point to activate nail color and start designing your own nails, then seal with topcoat when your design is complete.
Some alternative suggestions includes tipping your nails in different colors – like a french manicure but with funkier colors! Or writing letters on your nails to spell out a message. This product retails for $7.95 at selected drugstores across Canada.