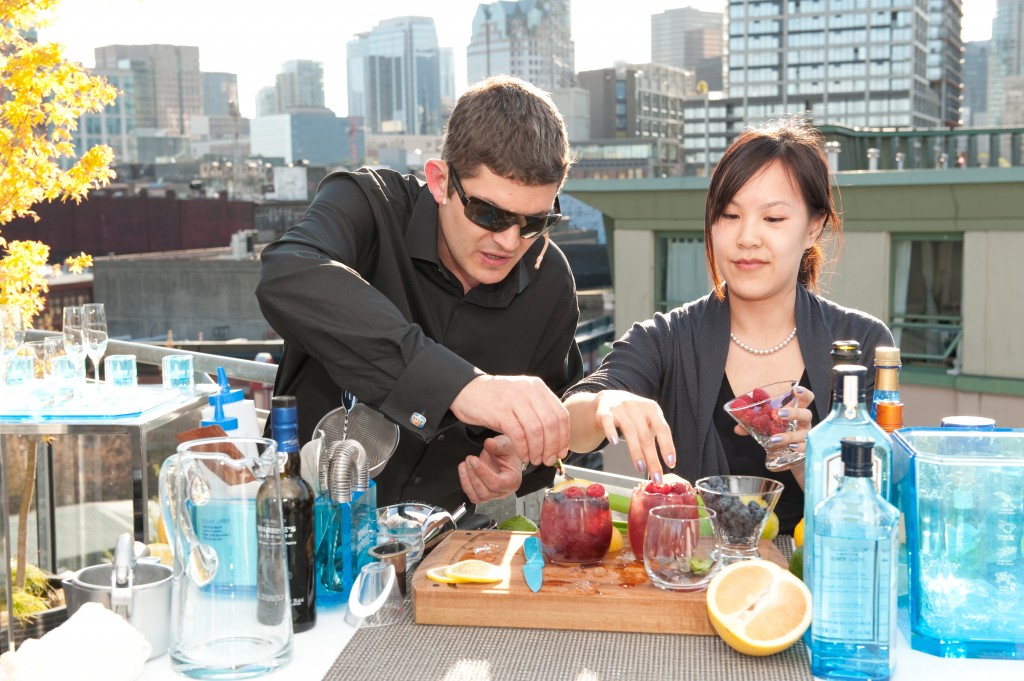 Has it been a year already??  For the second year in a row, Modern Mix Vancouver was at the exclusive Bombay Sapphire event with Master Mixologist Merlin Griffiths. As you may remember, last year the event took place at a loft at the Shangri-La Hotel. This year, with an equally chic environment, the event was held at a Gastown loft on Cordova Street- the perfect venue for a patio party with summer cocktail pairings and BBQ essentials.  This year, it was officially titled the "inspired entertaining party" and as per the year before, we were served Bombay Sapphire cocktails with the recipes in a press kit to try for ourselves at home.  Out of a group of 30+ media members, I volunteered to help Merlin out with the Sapphire Sangaree – a colorful gin cocktail, with fresh berries, reminding me of a sunny day sangria.  Feel free to browse the gallery at the bottom of this entry for more drink and event photos.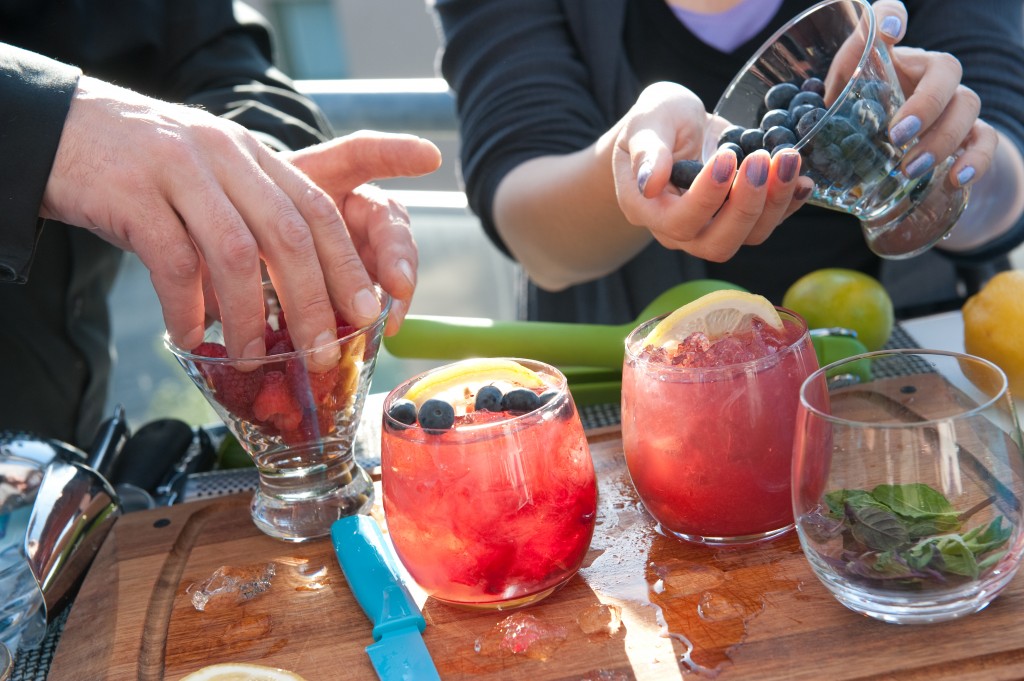 Sapphire Sangaree
Ingredients (Makes 4 cocktails)
4 oz Bombay Sapphire gin
2 oz Ruby Port
2 oz Cointreau Liqueur
3 1/2 oz Lemon slice, seasonal berries and mint leaves for garnish
Method
Into a chilled pitcher, add the lemon juice, orange liqueur and BOMBAY SAPPHIRE and stir to mix. Pour into rocks glasses filled two thirds full with cracked ice and gently drizzle 1/2oz of ruby port over the mixture. Finish the cocktail with a thin shimmering layer of cracked ice and ornament with a lemon slice, seasonal berries and clutch of mint leaves.
Mixology Tip: Cracked Ice
Take a large zip lock bag and fill 3/4 full with ice, and then fold a tea-towel (cloth) around the bag. Take a rolling pin or muddler and firmly, but not furiously, crack the ice with smart firm taps. The ice should reduce to popcorn-sized pieces; this improves dilution, chilling, and appearance for "sip and stir" style drinks.