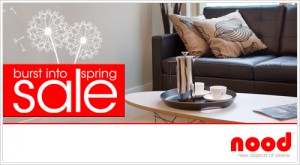 Last week I was walking through Gastown and came across the furniture and design store "nood" (new objects of desire).  I loved the trendy but practical items available at the store and its focus on modern, contemporary design.  From clocks with magnetic moveable numbers, to funky picture frames, to espresso cups with silicon angel wings, many of their household products look like they came straight out of The Cool Hunter!
Nood encompasses a range of fun and well designed products that permeate style, accessibility and affordability. Nood offers furniture, ceramics, gifts & gadgets, luggage, home textiles, and so much more! The eclectic product categories create retail environments that have an element of discovery for customers. With an emphasis on quiet style, simple functional design and good use of color, the products and merchandising work to increase the sensory experience of nood. While nood aims to satisfy the style requirements of discerning customers looking to surround themselves in little luxuries, the product nood offers will suit all customers. Giving a new level of accessibility and affordability to well designed beautiful lifestyle and homeware products.
Despite Nood's level of trendiness, I would say that their price points are reasonable and affordable, unlike many of the furniture and design shops in the surrounding Gastown area.  Shop soon, because Nood is in the midst of their spring sale with items between 20% and 50% off!