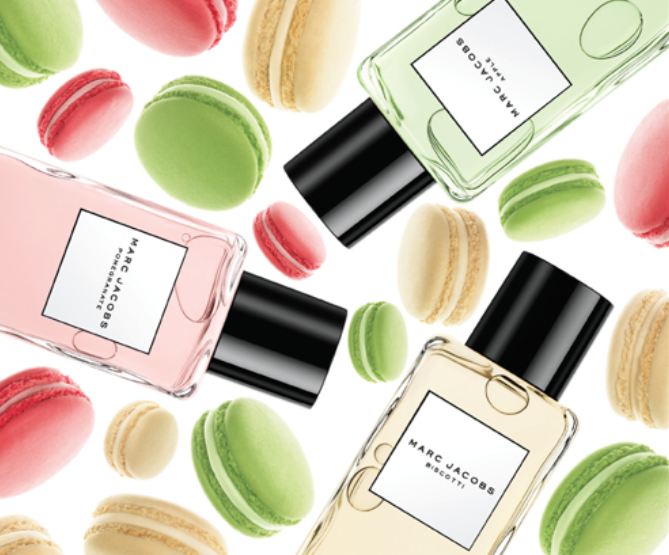 Indulge in an array of macaroons at a patisserie on a sunny day, this year, your Parisian vacation comes early with the release of three new limited edition scents under the Marc Jacobs Splash collection.  This new trio of fragrances are inspired by the simple pleasure of sitting outside at a patisserie and enjoying the rich and beautifully displayed sweets.   Spring 2010 marks the addition of Apple, Pomegranate and Biscotti to Splash.  Everything from the advertising to the actual coloured tint of the perfume itself  evokes a reminder of sweet pastry scents.
Marc Jacobs Apple provides the irresistible brightness of fragrant green apple.  Deliciously fruity, apple is aromatic and energizing, with an intriguing freshness.  The scent evokes the enjoyment you get from a fresh tart on a lazy day. This fragrance is by far my favourite of the Splash trio, with its mouth-watering sweet fruity scent and reminds me (and will probably remind everyone else) of DKNY's So Delicious in Green Apple.
Marc Jacobs Pomegranate creates a fresh sensation, capturing the sparkling radiance of an exotic fruit.  Vibrant and upbeat, pomegranate exudes an inviting balance of elegance and brightness. With top notes of mandarin flowers, bergamot, lemon chiffon, rhubarb and violet mix with pomegranate, this fragrance can definitely be classified with a citrus scent.
Marc Jacobs Biscotti tempts the senses with its savoury aroma and a touch of citrus.  Uniquely delectable and crisp, biscotti is the perfect pick-me-up.  This comforting and refreshing interpretation is unique and beautifully surprising. Although the top notes are of freesia, bergamont and orange flower, for some reason, the scent closely resembles liquorice to me.
The new Splash collection fragrances are once again packaged in the luxurious, oversized glass bottles that have become the signature silhouette for the Marc Jacobs Splash scents.  Get one, or get them all, each 300ml bottle retails for $85 and is available March 2010 at Holt Renfrew, Sephora and select Bay department stores across Canada.