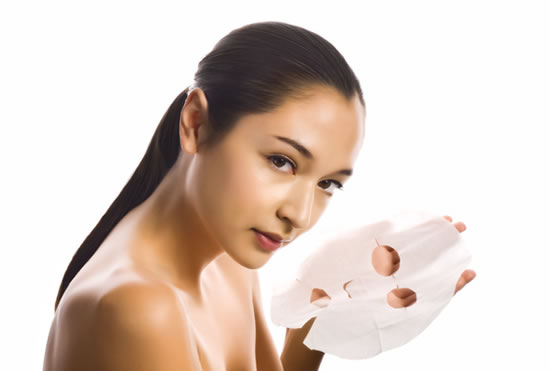 Based in Vancouver, myfaceworks is introducing a new line of paper facial masks to the North American market so you will have "every reason to hide behind a mask".  So what exactly is a paper facial mask?  Made of a soft piece of paper-like material, the mask is cut in the shape of a face and soaked with skin nourishing nutrients and ingredients like cucumber extract, green tea extract and aloe barbadensis leaf juice.  The masks are all individually wrapped in foil packaging and very lightweight, making it hygienic and portable – a must-have for travellers to combat fatigued skin and a change in weather.
Between my mom and I, we tried the Vitamin C and the Lavender facial mask from myfaceworks.  Upon opening the foil package, the mask was very moist – almost dripping with the serum.  The Vitamin C had a citrus-y orange fragrance, while the Lavender had a soft, pretty lavender fragrance to it.  To avoid being wasteful, my mom suggested to put the leftover serum from the package onto her hands like cream, and she says it left her hands feeling very soft.
Here are some examples and benefits of the masks you can get through myfaceworks: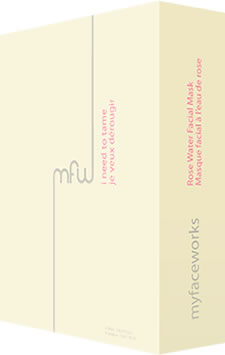 I Need to Wake Up (Vitamin C Radiance Facial Mask): Sometimes all you need is a little pick me up. This mask will unify your complexion and make your skin impeccably translucent. This is the little shot of sunshine you need every day for your face. Suitable for all skin types.
I Need to Open My Eyes (Revitalizing Eye Mask): This is an energy drink for your eyes. It intensely moisturizes dehydrated areas and significantly minimizes the appearance of wrinkles, dark circles, and puffiness. In 15 minutes, you can fake eight hours of sleep. Suitable for all skin
types.
I Need to Tame (Rose Water Facial Mask): Hard working skin deserves to be pampered. Rose water will calm and relax your skin. Tame the redness with this cooling mask and get back to your life. Suitable for sensitive and normal to dry skin.
I Need a Quickie (Pre-Makeup Express Facial Mask): No time and always on the go? This mask will give you a quick pick-me up. Lift, moisturize, and refresh in less than 10 minutes. Perfectly suited for pre-makeup application. Suitable for all skin types
I Need to Detox (Green Tea Facial Mask): Green tea extracts are not only good for the body. Combat daily pollutants and restore youthful suppleness to a dull face. This mask will make your complexion smoother and appear more radiant. Suitable for normal skin types with oily tendencies.
In conclusion, myfaceworks paper facial masks are portable and easy to use, and the wide variety of masks you can purchase allows you to have a personalized experience every time!