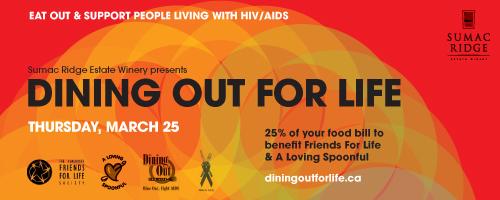 Dining Out For Life is an annual fundraising event involving the generous participation of volunteers, corporate sponsors and restaurants. In exchange for their financial support, restaurants are listed in a city wide marketing campaign in an effort to increase customer traffic.
With over 230 participating restaurants across greater Vancouver, this event is sure to both satisfy the palates of Vancouver's foodies and the needs of these two amazing charities.  25% of your food bill will benefit Friends For Life and A Loving Spoonful.  This year, Sumac Ridge Estate Winery will be providing their continued support for the Vancouver edition of Dining Out for Life as a title sponsor.  Sumac Ridge will donate $1 for every bottle of Sumac Ridge wine sold in the month of March to help support people living with HIV/AIDS.
With the flexibility of having breakfast, lunch or dinner at great restaurants around Vancouver, this is a great reason to go out for a meal.  Some MMV-familiar restaurants participating in this event include CRU on West Broadway, Corner Suite Bistro de Luxe in Downtown, Socie+y in Yaletown, and Fraiche in West Vancouver.
====
A Loving Spoonful provides free, nutritious meals to men, women and children living with HIV/AIDS in Greater Vancouver and the surrounding areas. In the last year alone, A Loving Spoonful has provided over 100,000 meals to those who need it most. Meals are delivered weekly by a team of dedicated volunteers. 'The Spoon', as it is affectionately known, operates five distinctive meal programs, ensuring that each individual client receives a food service that best suits their needs. One of these programs is 'The Family Pantry', a unique and pro-active food service that provides pantry essentials, fresh fruit, vegetables and dairy products to families living with HIV/AIDS.
Friends For Life supports people living with life-threatening illnesses such as HIV/AIDS, their families and their caregivers. This leading wellness centre was formed with the belief that no-one should face a serious illness alone, and offers a broad range of complementary and integrative therapies aimed at shifting the focus from illness to wellness. Programs include massage/body work, yoga, Naturopathic and Traditional Chinese Medicine, a nutrition/meals program and care for individuals confined to their homes.