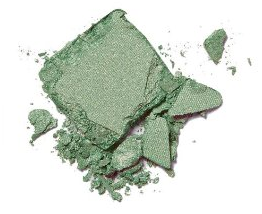 Benefit introduces six new limited edition shades for their Velvet Eyeshadows for Spring 2010.  With names like Bo Peep (baby pink), and Nice Melons (a "papaya pearl"), these soft pastel shades remind me of Easter eggs and baby bunnies – a sign that spring is truly just around the corner.
Embrace the spring season with a rainbow of colour.  Benefit introduces the limited edition Velvet Eyeshadows with six fresh and vibrant hues, like Shamrock and Mermaid, perfect for the season.  Soft and velvety, these powder shadows offer versatile looks that give a single colour satin sheer finish or layered with amped-up colour that pops.
I tested the product in Mermaid (green with gold flecks) and the eyeshadow went on effortlessly with a shimmering, powdery finish.  The color was a bit too light for my liking, I am used to highly pigmented eyeshadows (ie. MAC Cosmetics) but then I realized that Benefit's Velvet Eyeshadows are perhaps meant to be used as a finishing touch on top of other eyeshadows, or for a very subtle single-layer "satin sheer finish".
The Benefit Velvet Eyeshadows are encased in a compact rectangular plastic case with white dove silhouettes and  retails for $22 at Murale at Oakridge.