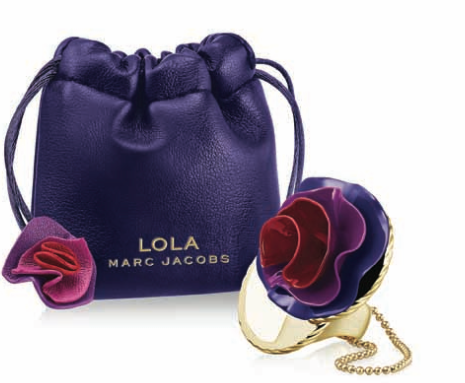 A while back, Modern Mix Vancouver featured LOLA by Marc Jacobs, the "playfully alluring, irresistibly tempting" fragrance with notes of fuchsia peony.  We are pleased to let you know that the same fragrance now comes in a limited edition solid perfume ring.
This winter, discover a playful way to wear Lola – the chic new solid perfume ring.  This flirty must-have accessory is the ideal gift for the most fashionable fragrance lover and the perfect way to take your favourite scent with you wherever you go.

The ring's oversized, colorful floral top is inspired by the exploding bouquet that blooms from the Lola fragrance bottle.  The flower slides open to reveal the ring's secret: the alluring Lola Marc Jacobs solid perfume.
As I've said before, I love the idea of versatile, multipurpose beauty and fashion accessories.  Wear this as an oversized cocktail ring, or keep it in your purse in the cute violet pouch….this product is for a woman on the go!   The Lola Marc Jacobs solid perfume ring retails at $49.00 at department and drug stores across Canada.