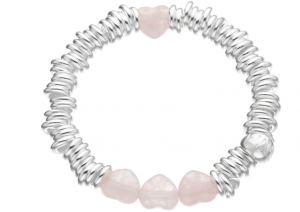 When I was at the Holt Renfrew Spring/Summer 2010 fashion event earlier this week, Links of London made an appearance with the reintroduction of its iconic "Sweetie" collection which was first introduced in summer 2002.
The best selling silver sweetie bracelet goes chunky as well as getting the micro treatment; transformed into a miniature version it captures the fun and frivolous spirit of Sweetie. Accompanied by must-have miniature charms, we anticipate it becoming another collector's dream! Just as you would deliberate over pick & mix at the sweet shop you too can ponder over which mini charm to treat yourself to at one of our charm bars.

Rose gold combinations and candy coloured heart shape stones introduce a new generation of Sweetie, updated with a logo barrel, these designs capture the delightful essence at the heart of the collection.
Spotted in the Links of London catalogue, sterling silver charms can be attached to the bracelets and comes in an assortment of cute designs – from hearts and stars to handbag and stilettos.  The silver base bracelet retails for $220, and charms are $70 each.