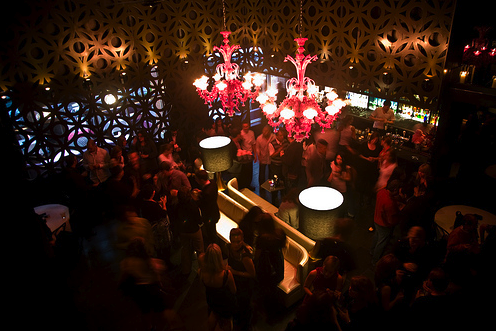 Photographs by Jeremy Lim.
Earlier this month, the Glowbal Group's newest initiative "Society" (1257 Hamilton Street) opened in Yaletown.  With the tagline of "Opposites Attract.  The Unexpected Reigns", Society most definitely has unique, unexpected menu offerings!!  Described as a "union of opposites", the menu offers comfort food – but with a twist.  
So for example, classic tomato soup accompanied by mini grilled cheese sandwiches (hmm, following the "tapas" trend?), Mac & Cheese balls (think crabcake style), apple pie with vanilla ice cream and a Nutella milkshake (spiked with Baileys).  As for prices, Society's express lunch menu is a pretty good deal.  Less than $10 for sandwich-y types of food.   Also, several of their menu items contain cotton candy as an ingredient, including on their drinks menu, the "Candy Collins" which is probably the most creative drink I've ever had.  It came with a generous fluff of cotton candy on top, and I was advised by the bartender that I could either eat it plain, or melt it into my gin to sweeten as desired.
This is a completely new kind of Yaletown dining lounge. At Society, opposites come together to create all-new pleasures. A vibrant, sultry space where casual nonchalance – the freshness of a favorite pair of jeans and a white tee – meets a subtle decadence that you simply won't find anywhere else in this city. A dining lounge where comfortable meets chic, warmth meets undeniable cool, light humour meets dark sensuality. This is a place where anything can happen.
But I think the most talked about aspect of society is the venue and decor.  Yes, it takes on the layout of the former Coast Restaurant (now located on 1054 Alberni Street), however, the pink chandeliers are a definite topic of conversation.  In view of both the first and second floor, the chandeliers are so kitschy, contrasting the wooden paneling of the rest of the restaurant, yet it somehow fits with the "opposites attract" theme.  
From now until the end of November, take advantage of Society's 2 for 1 weekday lunch special from 11:30am to 4:30pm or come by for dinner and receive a complimentary Junk Food Platter (with the purchase of two dinner entrees), every night of the week. What's a junk food platter, you ask? It consists of nostalgic childhood treats including cotton candy, chocolate cupcakes, caramel corn, ice cream sandwich, an oreo milkshake, doughut holes, cookies and rice crispy squares.