Lippmann Collection – Marquee Moon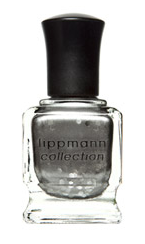 At the Murale media opening, we were given generous gift bags with a selection of products by the brands available for purchase in-store.  One of the goodies in my bag, was a bottle of nailpolish from the Lippmann Collection in marquee moon, which is a new shade for her autumn 2009 collection. Lippmann Collection nail lacquers are free of Toluene, Formaldehyde and Dibutyl Phthalate.
The reason why this brand caught my eye is because, when I googled the nailpolish, I discovered that Deborah Lippann is a celebrity manicurist. There were a whole bunch of online reviews and quotes from celebrities who have used her services (and therefore, her nailpolish line), including Sarah Jessica Parker, Cher, Mariah Carey and Faith Hill.
About the shade Marquee Moon in particular, it is a silvery shade which reminds me of holiday tinsel.  What makes it special are the sequins inside the nailpolish.  I just finished painting my toenails and I like how the sequins are randomly scattered on my nails.  However, if you brush the nailpolish over your nails several times to get it smooth, some of the sequins get trapped in the brush and you end up with none – especially when your toe nails are so tiny, there's not enough space for several sequins.  By the way, it helps if you shake the bottle before painting – more sequins float up from the bottom.
From Deborah Lippmann herself, on her blog: …the sequins dont cover the nail–and all fingers look slightly different. If you get one sequin or 10 on a nail– that is what is meant to be! Dont force it. Be adventurous!"