GAP – Sprize Card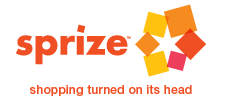 Surprise!!  The GAP has literally turned its retail world upside down with the launch of its "SPRIZE" card.  Last week, on a regular Thursday morning, the downtown Vancouver community awoke to upside-down logos, signs, mannequins, and even cars (!!) surrounding the GAP on Robson Street.  All this "shopping turned on its head" in preparation to prepare the public for the SPRIZE offering.  "What wants to buy something today only to see it go on sale tomorrow?"  The answer is: "You do.  For a change."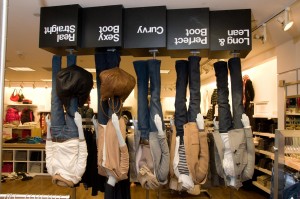 With an easy one-minute in-store sign up … the SPRIZE card offers customers an incentive to purchase now, instead of waiting for an item to go on sale.  How?  If something you buy from GAP goes on sale within 45 days of your purchase date, you are notified by email and automatically given an in-store credit (called "Sprize Bucks") of the difference in pricing.   No more waiting, no more hassle of keeping receipts or having to run in and out of GAP, holding your breath, hoping you got the best deal on something!  You also don't need to carry the card around – the GAP system has your contact information in its database.
According to the Gap executives who were at the in-store press event (the morning everything went upside down), the Sprize card is "convention breaking" in the industry.  However, the concept is a win-win situtation for both the company and its customers.  By delivering value to customers, Gap hopes it will be rewarded with customer loyalty.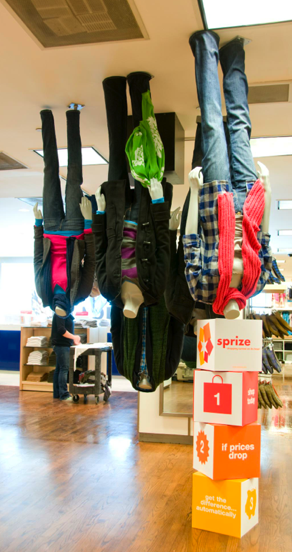 Currently, the Sprize card works at the following ten locations:
Seven Oaks Shopping Centre
Metropolis at Metrotown
Coquitlam Centre
Richmond Centre
Guildford Town Centre
Kerrisdale GAP Kids
Pacific Centre
Robson Street
Oakridge Centre
Park Royal
I personally haven't stepped foot into GAP in quite a while.  However, when I went last week for the launch of the Sprize card, I actually found a lot of stuff that I liked there at a decent price.  GAP clothing is definitely good for staple pieces, or pieces for layering, and several items this season are made with premium quality material, like wool or cashmere.  Of course, those items are higher priced, but with the Sprize card, you might actually get a good deal. I ended up buying a wool v-neck sweater from GAP.
One of the limitations of the Sprize card that I have noticed is the fact that it doesn't take into account other ways that you could get a better deal on GAP items.  The Sprize Bucks are only rewarded when the item goes on sale.  However, I just recently got an email for a "friends and family" event, with a coupon for a 30% discount at GAP.  Although a 30%-discount is cheaper than what I paid for my wool sweater from GAP, I will still have to go back to the store in person, to do a price-adjustment on my purchase.  This could be a potential cause for concern, especially since GAP (Banana Republic and Old Navy) sends out these discount coupons several times a year.