Bring in a gently worn party dress and Wear Else will give you $50 toward a new one!
The mission of Dress for Success is to promote the economic independence of disadvantaged women by providing professional attire, a network of support and the career development tools to help women thrive in work and in life.  I personally think Dress for Success is an excellent charity to support female empowerment through "suits to self-sufficiency".
This holiday season, Wear Else will be supporting the Vancouver Chapter of Dress for Success. From October 23 to November 18, three Wear Else locations (Park Royal, West 4th and Oakridge Centre) will collect gently used holiday wear for the Dress for Success program. On November 18th, after all the Holiday Outfits are collected, the flagship West 4th Ave location will host a special Holiday Styling Event for Dress for Success Alumni where these lovely ladies will have the opportunity to choose one of the beautiful holiday outfits you have donated. These women are about to attend their first holiday events at their place of employment and Wear Else would like you to help us assist them in looking and feeling confident and beautiful!
Start the gift giving season early this year and donate your gently used holiday dress or pant suit at Wear Else's Park Royal, West 4th Avenue, or Oakridge locations.  Customers that bring in holiday wear will feel good when they receive a $50 gift certificate to purchase a new dress but will feel even better knowing they are contributing to Dress for Success!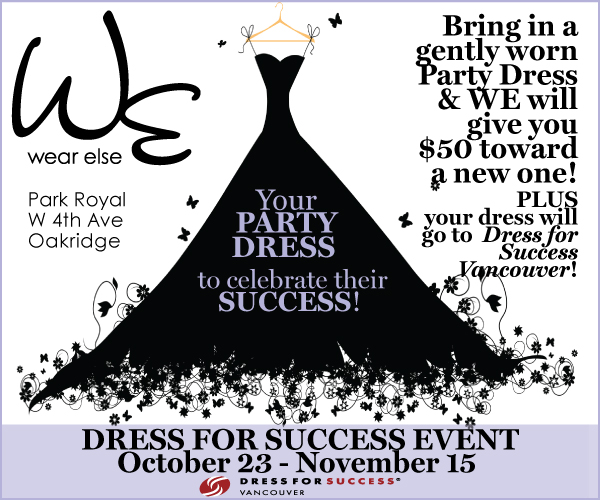 **Only one dress and $50 Gift Card per customer.