"She's sexy with a fun, flirtatious wink.
Coquettish and a bit provocative.
Relaxed, cool and confident.
Playfully alluring and irresistibly tempting"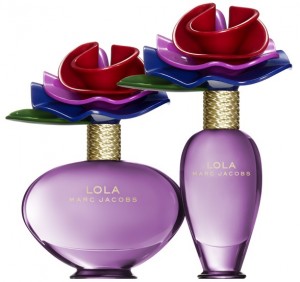 Thus begins the description of Marc Jacobs' LOLA, his newest fragrance, "a modern free spirit with an irrisistible attitude".  Not only a fashion designer, Marc Jacobs has also become a cultural icon.  LOLA is his own personal creation (including the bottle design!), a vision of what is feminine and sexy.  Like the bottle, LOLA can be desribed as a "warm floral bouquet" with sensuous floral scents including the signature note of fuschia peony and soft touches of rose and geranium.  Fruity top notes include "pink peppercorn, seductive pear d'anjou and succulent ruby red grapefruit".  "Smooth vanilla, tonka bean and creamy musk" line the base of the fragrance.
As for the bottles, as displayed in the photograph above, a curving violet bottle is topped with twisting layers of color like a lavish floral boquet with a gold coil wrapping the collar.  LOLA will be launched early on in September 2009 at Holt Renfrew and Sephora.  The fragrance will be available at department and drug stores in October 2009.  Suggested retail prices are $79 for the 50ml Eau De Parfum, $105 for the 100ml.