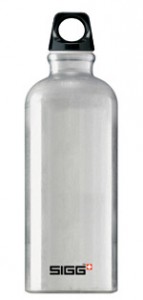 Have you heard about how SIGG admitted that some of their bottles contain BPA?  Yes, those streamlined, metal waterbottles which were all the rage after the plastic Nalgene ones were tossed away due to concerns over those very same BPA chemicals.
All SIGG bottles made prior to August 2008 have the former water-based epoxy liner which contains trace amounts of BPA.  It is easy to determine which liner you have, as they are 2 distinctly different colours.  Click here to see photos comparing the two.
Anyway, at least one retail outlet is taking advantage of this news to draw you into their shop!  U-Life Accessories (2028 Vine Street), a gift boutique just off West 4th Avenue on Vine, is offering a voluntary exchange for SIGG bottles manufactured prior to August 2008 – no proof of puchase needed, just make sure your bottle has the old liner and they will exhange it for a bottle of the same size!
All you have to do is bring your old bottle into our store in order to exchange it for a new SIGG bottle with the next generation "Eco Care" liner. Providing the same quality and protection afforded by the previous liner, this new powder-based, co-polyester coating has been thoroughly tested and is certified to be 100% free of BPA, phthalates, BADGE, BFDGE, and NOGE.