The Dirty Apron Cooking School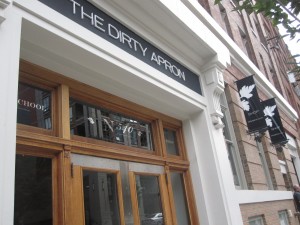 The Dirty Apron Cooking School (540 Beatty Street) recently opened in Gastown as a place for "amateur cooks, the curious and professionals alike to learn, explore, and unleash their inner chef".  The culinary school opened last weekend for an open house where visitors were invited to tour the state of the art kitchen, the dining room and store.  Cooking demonstrations took place all afternoon with yummy tapas, including spicy prawn, scallops in a mildly sweet sauce, succulent lamb bites and crab cakes.
Where does this talent come from?  Perhaps it is because one of the founders is David Robertson, the former sous-chef of Chambar.  David has a background in classic French cuisines and will teach the majority of the classes, with guest and celebrity chef appearances throughout the year.
From chocolate-themed classes, to French, contemporary West Coast, Italian and even a "Knife Skills" class, the Dirty Apron Cooking School offers unique themes of classes.   Two styles of classes are offered: hands-on and demonstration. The hands-on class feature four hours of instruction and are designed to walk students through each step in making a complete meal.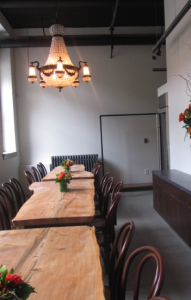 The demonstration classes are guided over two hours offering students a chance to watch, follow along, and then taste the results with the chef. And because courses are only two or four hours long, even commitment-phobes will have time for this. Both classes are then followed by a group dinner in the Dirty Apron private dining room.
Course prices are around $130 for the hands-on classes, and around $80 for the demonstration classes.  For a limited time, all bookings for hands-on classes in August will receive a $50 gift card, and those who book a demonstration class will receive a $30 gift card. Gift cards will be redeemable at the Dirty Apron Cook Shop, which will carry indispensable kitchen supplies and high-end wares.