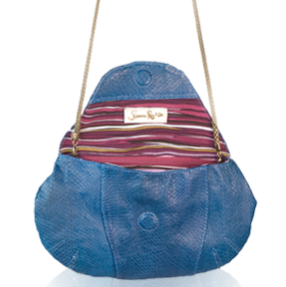 If you've seen me in the last couple of days, you may have seen me carrying a new purse around!  This past week, I had the opportunity to borrow two products from the upcoming Sienna Ray & Co. fall 2009 collection.  There's something personal about being able to touch and feel sample pieces, hand delivered to me by the designer, Natalie van der Vorm, herself.
Sienna Ray is taking eco-friendly to eco-trendy with a new line of environmentally influenced handbags in a variety of materials. "Through Sienna Ray, I want to raise awareness of the beneficial effects of sustainable manufacturing processes," explains Natalie van der Vorm, creator and head designer, "I want to demonstrate that it is possible to be economically successful and environmentally friendly".  The Fall 2009 Collection demonstrates that eco-consciousness and fashion mesh perfectly, with something for everyone.  With the coin-purse sized "bella" unzipping into a full sized tote, or the dressier "georgia" salmon fold clutch, Sienna Ray will have you going green from the grocery store to a night on the town.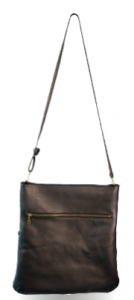 The "Georgia" is a colbat blue clutch with a chain what can be worn as a strap or hidden inside the purse.  The photos on the Sienna Ray & Co. website don't quite reflect the vintagey auora surrounding the purse.  The colbat blue color was duller than I expected, but paired with the rough texture, there was a rustic yet stylish feel to it.  It was a lot smaller than I expected, but I could still comfortably fit in my digital camera, my house keys and a couple of loose credit cards.
The "Mak" bag is quite a unique piece in the Sienna Ray collection as you can wear it in four different ways.  The colors for the upcoming season are black, chocolate brown, an off-white dove and purple.  It is a very sturdy, but soft bag.  Something that feels well-worn and loved, yet still brand new.  I wouldn't describe it so much as a fashion accessory as I would a wardrobe staple; the look and feel is still the same, but the versatility of the bag sets it apart.
Sienna Ray & Co. is located in Vancouver, B.C and Sienna Ray Handbags are available at retail outlets including One of a Few, Eden Fashion Boutique, Lord's Shoes on South Granville, Kiss & Makeup at Park Royal.