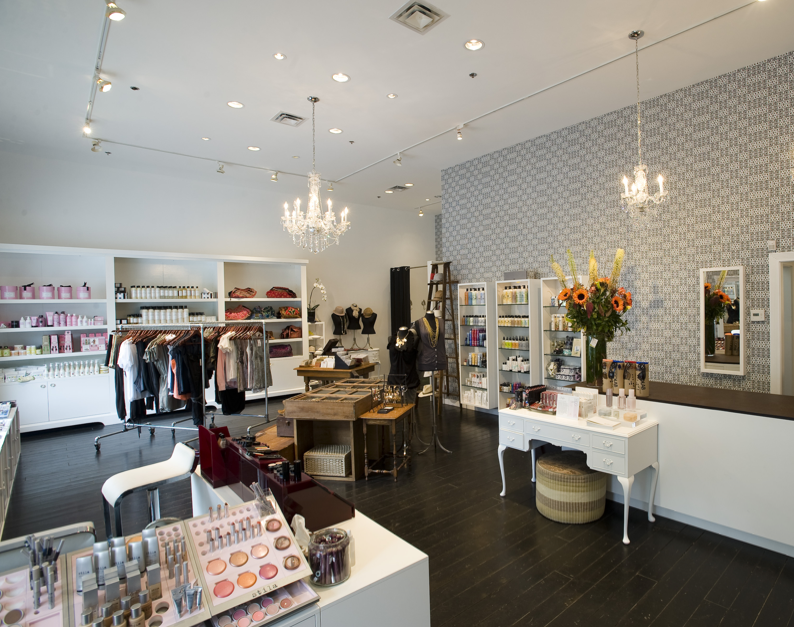 Apothecary & Apparel.  Sounds catchy, doesn't it?  And that's exactly what's inside and online at Kiss & Makeup, a "friendly fashion and beauty resource", newly relocated to West Vancouver's The Village at Park Royal.  Owned by Heather Huntingford, with her eye for niche products, Kiss & Makeup carries beauty lines that are "conscientiously made, original, organic, natural and amazing".
"Our new space is twice the size of the original location," says Heather Huntingford. "Now that we'll have dressing rooms, we're officially launching apparel at Kiss & Makeup with classic Richard Ruiz, luxe Soyun cashmere, coveted Mike & Chris, sexy Cynthia Vincent shoes, and more. Of course our favourite beauty brands including Själ and Stila aren't going anywhere, plus we've secured the Canadian boutique exclusive on Skyn Iceland and celebrity favourite, Becca from Australia."
With an eye toward eco-nomics, the new store features reclaimed pine floors from the original tenant, and Kiss & Makeup's existing furniture, vanities and shelves are being whitewashed and repurposed in the new space. Vintage chandeliers and clothing racks complete the vision that Heather refined.  Also, several of the lines that Kiss & Make-Up carries have been featured in various Modern Mix Vancouver articles.  These include: BECCA Cosmetics, Geisha Ink and Sienna Ray & Co. handbags.
What else is in Heather's vision for Kiss and Makeup?  Read on for Modern Mix Vancouver's interview with her!
MMV: How long has Kiss & Makeup been around for? What was your original inspiration for opening up your boutique?
Kiss & Makeup opened in September 2004. My own personal experiences inspired the boutique. Like many people, I suffer from severely sensitive skin so most drugstore and department store beauty brands are out of the question for me. I personally test all the brands we carry, and niche products that are conscientiously made, original, organic, natural, and amazing that make the cut. I also loved the idea of creating a refreshingly frank and friendly fashion and beauty haven. We are anti-intimidation at Kiss & Makeup. Makeup is supposed to be fun after all!
MMV: Being an independent boutique, what do the staff at Kiss & Makeup do to make every customer feel welcome at your store?
It all goes back to our mission to be refreshingly frank and friendly. We start by attracting really talented people with warm, approachable personalities, and great individual style. We're completely excited about what we have to offer and our enthusiasm for the brands we carry is pretty contagious. The girls are also very well educated to insure that you leave with the right product for you.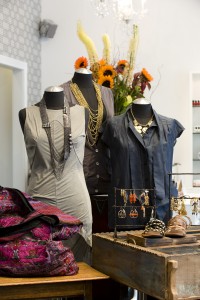 MMV: Kiss & Makeup has now expanded to include apparel too. A customer's fashion sense may be different from their preferred beauty products. How will you make sure that your fashion and beauty product selection complement each other?
Kiss & Makeup is an original boutique with a slightly boho-chic vibe. From the exclusive cosmetic and skin care lines found only at Kiss & Makeup to the hard to find accessories and apparel favored by celebs, our aesthetic is anything but cookie-cutter. It was really a natural transition into the apparel, we have been styling our clients from head to toe for years.
MMV: I'm sure you get asked this a lot, but what is your one "must-have" staple beauty product that every girl should have in their cosmetic kit?
We do indeed get asked this all the time. The truth is that we really cannot pick one! I think these are the top three products that every woman should own. The first is Geisha Ink Ultra Volume Mascara ($34) which gives massive volume without the smudging and smearing. It also comes off in a cinch – no multiple face washings. The next product is Line and Pore Corrector by Becca ($43). We love this primer as it works like polyfiller on large pores and fine lines. Use before your favorite foundation or tinted moisturizer. Finally, there is the Sue Devitt Prime Target ($40) which dispenses a serum of plant extracts and natural caffeine to battle dark circles and puffiness. You feel this product working …Ahhhh instant relief!
MMV: Any last words to Modern Mix Vancouver readers?
Don't be afraid of embellishment. Whether it's bold lips, notice me shoes, or signature bangles you are a blank canvas. Make yourself a piece of art.