By Alicia Woodside, MMV Fitness Writer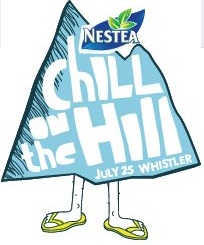 Welcome to NESTEA's "Chill on the Hill" event, happening on Saturday July 25th.  Think: live music, on-the-house virgin caipirinhas, lessons with Olympic athletes, beach volleyball, meet-and-greets with popular bands, half-pipe shows, live music, sun, snow, all at our very own beautiful Whistler, B.C.  The event is open to public of all ages, and because of the enormous complexity in delivering a snow and beach party, it will only be hitting the West Coast for one jam-packed fiesta. I had the opportunity to speak one-on-one with the brains behind the operation, NESTEA's Wallace Leung. See our interview below to get a taste of what to expect before you arrive!

MMV: What was NESTEA's goal with Chill on the Hill?
WL: "Canadians love being active, and they love the outdoors. We wanted to provide a refreshing possibility- thinking, wouldn't it be cool to have snow, and do a bit of skiing, and have a beach concert, with bands playing… We thought, how would this look?"
MMV: What was your experience with Mont Treblant, the Quebec edition of NESTEA Chill on the Hill, which happened June 20?
WL: "It was cool to see people ready to go [in their snow gear], so early in the morning… In total, we had about 5,000 people out"!
MMV: What was participants' favourite aspect of the experience in Quebec?
WL: It was quite varied! A lot of people, who came with their skis or snowboard, loved that experience of doing a bit of rails and jumps in the summer, and then others loved the opportunity to play beach volleyball, others would say the opportunity to hang out with Sam Roberts backstage… there were families there as well, who just enjoyed hanging out on the beach!"
MMV: How did you choose Whistler as your West-Coast venue?
WL: "Whistler is an absolute jewel! It is one of Western Canadas national treasures… Also, Whistler and Intrawest has been a longstanding partner with the Coca-Cola company, so it was really a great fit and a great venue.
MMV: What sets Whistler's event apart from the Mont Treblant version?
WL: "For Whistler, the event is actually at the peak! We will truck the sand [for the beach courts] to the top, that's a feat in itself! Also, we will have two bands playing, and it will happen all day this time… In Treblant, the event happened only at the base."
MMV: What's going on to achieve the snow theme? What kind of snow activities are offered, and how is there still snow on the mountain??!
WL: "The Whistler Operations team is managing that for us completely! They will get the snow from the glacier, bring it down, lay it out for us, and throughout the day they will manage the snow for us! Snow activities will include a boarding park, with rails and jumps, and there will also be a tricks competition, which two Olympians will help judge. They will also be running workshops!" (Ski and snowboard rentals will be available at the event).
For latest event updates, check out Chill on the Hill's Facebook Page.