NESTEA Chill on the Hill (Saturday July 25, 2009)
By Alicia Woodside, MMV Fitness Writer
Do you like live music, on-the-house virgin caipirinhas, lessons with Olympic athletes, beach volleyball, meet-and-greets with popular bands, half-pipe shows, live music, sun, snow, or beautiful Whistler, B.C.? Oh ya- and what about, when it's all free?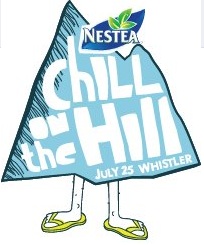 There is not a single person who would have difficulty finding something to enjoy at the West-Coast edition of NESTEA Chill on the Hill this Saturday. The event, happening from 10am-4pm on the peak of Whistler Blackcomb, is sure to provide something for everyone: for the active enthusiasts, beach volleyball games, free snowboard tricks workshops led by Olympic snowboarders, and the chance to join or watch a snowboard competition will entice you to the peak. For those who prefer being pampered, NESTEA will have a tea & WIFI lounge serving non-stop mocktails, as well as beach chairs for relaxation. Meanwhile, everyone can delight in House dj's as well as a free concert, featuring The Stills and Protest the Hero, and a meet-and-greet with both the bands and the athletes. The event is open to public of all ages, and because of the enormous complexity in delivering a snow and beach party, it will only be hitting the West Coast for one jam-packed fiesta.

What's the Order of Events?
Beach volleyball: 10am-4pm
SnowPark & Skills workshops: 10am-4pm
InteractiviTEA lounge (WIFI-enabled, with NESTEA mocktails): 10am-4pm
Olympic athletes meet and greet: 11-11:30am, Tent
Protest the Hero live: 12-12:45pm, mainstage
Protest the Hero meet and greet: 1-1:30pm
Tricks competition- ski and snowboard: 1:30-2:30pm, SnowPark
The Stills meet and greet: 2-2:30pm
The Stills live: 3-4pm, mainstage
DJ, with house music: throughout event.

Which athletes will be involved?
Canadian Olympian Justin Lamoureux (Halfpipe), and American Olympian Seth Wescott (Snowboard Cross)

How do participants get to the peak?
It's about a twenty-minute ride up the mountain [on the new Peak-to-Peak gondola]" (*See NESTEA's Chill on the Hill Facebook page for a $5-off gondola ticket coupon).
What should MMV readers wear?
According to NESTEA's Wallace Leung:
Definitely, first and foremost, if you are skiing and snowboarding, you will have to wear a helmet, but whether t-shirt or snow pants, that's completely up to you… If you're a superstar [and don't wear snow gear]… I'm thinking of myself, I might fall down and get wet! But it's up to you! Keep in mind that sometimes you may be hitting the snow side, and sometimes the sand side!

What kinds of food will be available?
Vendors at the peak, and participants are also welcome to bring their own picnic.
For latest event updates, check out Chill on the Hill's Facebook Page
See you this Saturday!