Stella's on Cambie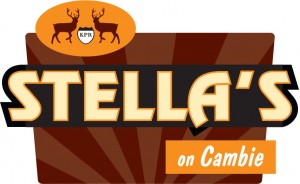 Stella's on Cambie is the second location of this Belgian beer themed chain – the sister of Stella's Tap and Tapas on Commercial Drive.  Although there is a small outdoor patio at the entrance of the restaurant, we decided to sit inside instead.  The decor of Stella's is quite cozy, with the atmosphere of a bar, but with a touch of family-orientedness.  True to its Belgian theme, a relatively large selection of "moules" (mussles) were available to order.  From "Thai" style with sweet bell peppers and red curry coconut brother, to the "Diablo" with tequila and jalapenos.  Unfortunately, I don't eat seafood and no one at our table ordered the mussles so I don't have an opinion on those dishes. 🙂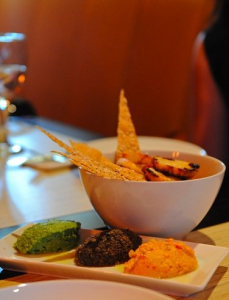 What we did order, however, was the $7 Trio of Dips.  [See photo left].  An assortment of crackers and bread accommodaed the colorful dips.  There wasn't anything special about the sundried tomato hummus and olive tapenade, however, the minted pea and coconut dip was quite an unusual taste.  It reminded me of mint jelly, with a refreshing coconut taste, however, the thick texture of the spread was a weird contrast to the fresh taste.
I also ordered the Beer and Chilli Braised Beef Brisket Taquitos, with Guacamole and Chimichuri (a thick herb spread) for $12.  I was expecting something soft and cheesy, like the microwave taquitos you can purchase at Costco, however, the beef brisket was wrapped in a crusty pastry instead.  It was also sort of dry, yet the bottom of my plate pooled with oil.
In conclusion, as I say with almost every restaurant in Vancouver, it's worth a try but Stella's on Cambie would not be near the top of my list of recommendations for a dinner venue.  Stella's Tap and Tapas Bar on Commercial Drive, however, is a different story.  Stay tuned for a review on the original Stella's!