By Guest-writer, Jessica Chau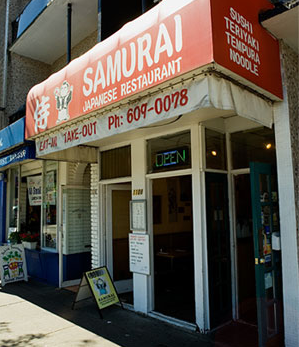 Being a Vancouverite, one cannot deny the incredible love and availability of sushi in Greater Vancouver. As a sushi aficionado myself, I've noticed several trends over years of sushi-hopping. This multi-part mini series starts this week, with "Massive Sushi."
Massive sushi is a non-traditional, "quantity comes first" trend where restaurants offer sushi such as nigiri with long pieces of fish on top, uncommonly large pieces of sashimi, and sometimes huge rolls. This trend is also very popular among consumers who want the most out of their money.
Samurai Sushi
One of the first restaurants to offer massive sushi, this restaurant has two locations on both Davie and Fraser. Although I have not dined in at Samurai, I have eaten their take out and one thing is for sure, be sure to watch out for their rolls, as their size may resemble hockey pucks!
Sushi Garden (4635 Kingsway)
What does Sushi Garden, Anton's, and Stepho's all have in common? Big line ups! Thankfully there is a long bench that spans the width of the restaurant. Come early to this popular sushi joint directly across from Metrotown center. However, be wary that the service is not at its best. Come for the fresh fish and assorted rolls.
Sushi Town (5935 East Hastings)
This one has also been a well kept secret in the Burnaby Hastings area. My personal favourite due to the value, my typical order for two people can total up to $27 with enough leftovers for lunch the next day. Sushi Town is similar to Sushi Garden in terms of style but with a few extra perks: it has less line-ups, slightly better service, larger nigiri, and amazing spicy tuna sashimi. Also, other favourites include their unique Alaska Roll, and yes, their Awesome Roll is really awesome.
What are your favourite "Massive Sushi" joints? Share your thoughts and comment below! Join me again soon for more Vancouver Sushi Trends.

**photo from Samurai Sushi website