For the past two years, the topic of "eyelash extensions" came up every once in a while in conversation.  But none of us had actually gotten them done … until now.  Like every upcoming trend, eyelash extentions have become more acceptable, more accessible and slightly more affordable.  Although this was not my first time visiting Wink!, it wa the first time I tried their salon services.  Vivian Ko of Wink! Beauty Lounge (67 East Cordova Street) offered me her services of a "natural eyelash set" (up to 30 lashes per eye for $80) last week and I LOVED IT.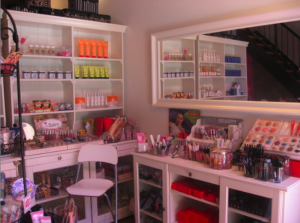 To begin with, Wink! Beauty Lounge is a lovely little boutique in Gastown, with beauty products sold in the front, and salon services in the back.  With brands like Pupa, Geisha Ink, OPI, Kiss Me Mascara, Smith's Rosebud Salve, Essie and Miso Pretty, their stock is comparable to that of Beauty Mark in Yaletown – but slightly more affordable with constant sales and special offers.  Although the location of the boutique is not ideal, Waterfront Station is only a ten minute walk away and it's generally okay walking through Gastown in the daytime.
As for the actual eyelash extention, the hour-long process wasn't bad at all.  You lie down in a comfortable chair; your eyes are closed pretty much the whole time and you have to constantly look up with your eyes closed.  Stay still! I was told, with a reminder that Vivian is working with sharp tools like tweezers.  Each fake eyelash was painstakingly cemented on to my existing eyelash.  Conversation was lighthearted and enjoyable – much like the typical movie experience at a nail salon or something like that.   (Ask Vivian what the best selling product is at Wink! and perhaps she will give you a brochure about it…) My phone kept on buzzing with text messages, and Vivian kindly read them off for me since my eyes were closed.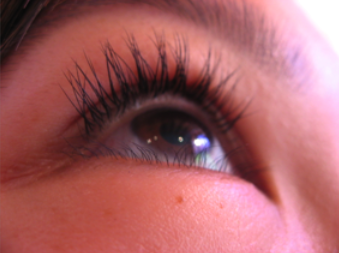 And yes, for the record, that IS my eye.
So what did my friends say?  Practically everyone complimented my extended eyelashes – however, most of them couldn't even tell they were fake because they looked so natural.  I haven't worn mascara since I got them done – you don't need to.  I would say my morning make-up routine got shorter because of that, however, you have to be really careful when washing your face in fear of rubbing out your extensions.  And, upon seeing my lashes, two of my friends went the week after to get them done.
It's been just over ten days since I got my eyelashes extended and they are still there.  Most of them.
More so on my left eye than my right eye – they didn't fall out symetrically but that's not a big deal – it still looks natural.  However, the eyelashes aren't as neat and tidy and well groomed as on day one.  They will last for about 2 to 3 weeks before you have to go in for a refill which start at $35 for up to 10 lashes.  I have a feeling this can turn into a fairly expensive habit, but a beautiful one.
Still not enough reasons to go?  How's this: Wink! Beauty Lounge is celebrating their one year anniversary at their new location and hosting their sweet life event "La Dolce Vita".  Some of the perks for dropping by Wink! Beauty Lounge between June 3rd and June 6th include:
20-50% off selected products, including 30% off all OPI, 40% off all China Glaze, 40% off select BlueQ product, 50% off all Wink Basics (eyeshadows, brow products, loose powders) & more
Special gift with purchase at $25, $50 and $100
Free mini Kiss Me Mascara for the first 100 customers
A $20 coupon for a Discovery Lash Extension Set
And lastly, spin the special Wink! Wheel for extra discounts, samples and free mini services.  For more information, click on the invitation below or check out the Facebook Event.