By Guest-Writer Champagne Choquer
Last Sunday, on May 10th, the Vancouver Art Gallery unveiled its latest collection of art work: Vermeer, Rembrandt and the Golden Age of Dutch Art, an exhibition that depicts some of the most celebrated artists from 17th-Century Netherlands.
On loan from the Rijksmuseum (Museum of Art and History) in Amsterdam while the gallery undergoes massive renovations, the VAG is the only other gallery to be showing this collection.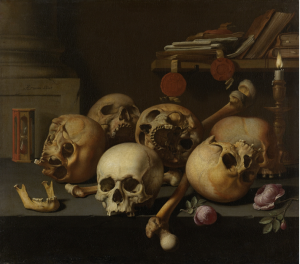 The 128 paintings, drawings and decorative pieces in the Golden Age collection are presented in a historically comprehensive way that outlines the rise of the Dutch Republic's political, economic, and cultural prominence. As a result of its maritime power 17th-Century Dutch society had grown in wealth and an emerging middle class could afford to decorate their homes, and newly bought country homes, with lavish paintings and drawings. This lead to a boom of artistic talent.
The exhibit is divided into subjects such as Portraits, Still Life, Landscapes, and Scenes of Everyday Life. Along with masters Rembrandt van Rijn and Johannes Vermeer, the collection also holds portraits by Frans Hals and Gerard Ter Borch, and scenes of daily life by Karel du Jardin, Adriaen van Ostade, Jan Steen and Pieter de Hooch.
The precision and detail given to the still life pieces is remarkable. In one piece by William Claesz Heda simply titled Still Life there is beautiful, ornate cup on its side that looks more real and vivid than any photograph ever could. The painting also shows a half-peeled lemon and a half-full glass to emphasize the need for moderation.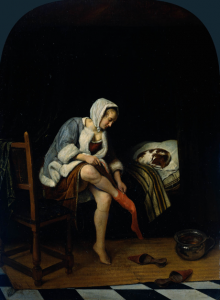 But symbolism isn't limited to still life. In images from Scenes of Everyday Life you will see the same beautiful detailing of textures and features typical of the period, but with an added moral undertone. In the image Woman at her Toilet by Jan Steen, a woman removes her stockings on her bed. Though it looks innocent enough to current viewers, a 17th-Century audience would have inferred the erotic emphasis in the image of a sleeping dog, known to be emblematic of sexual desire, and the presence of a bed pan, which in Dutch was a synonym for "slut".
The exhibit is on now until September 13th. Visit the exhibit On Tuesday, May 19th (when admission is by donation) and attend More Than a Love Letter, a lecture presented by Timothy Brooks that will discuss the various worldly influences on Dutch art.