Main Street Swagger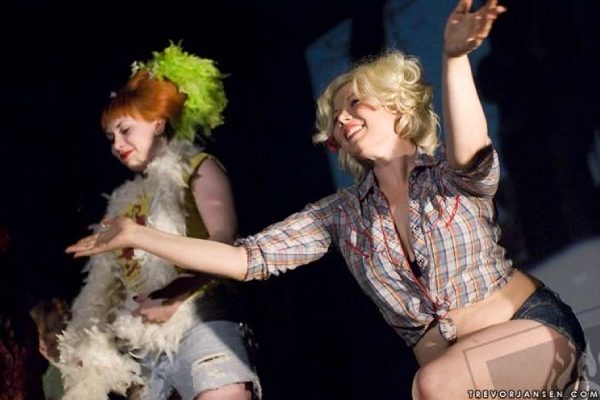 By Contributing Writer, Megan Hui
The Rio Theatre is not just a regular theatre. Located at 1660 East Broadway you can obtain, along with your popcorn, alcoholic beverages and other "ID required" snacks. This was the location of the Main Street Swagger Fashion Show which comprised of several local boutiques and clothing stores including Hotbox Accessories, Scout Boutique, Thriller Shop, Lace Embrace, and Pesky Peacocks.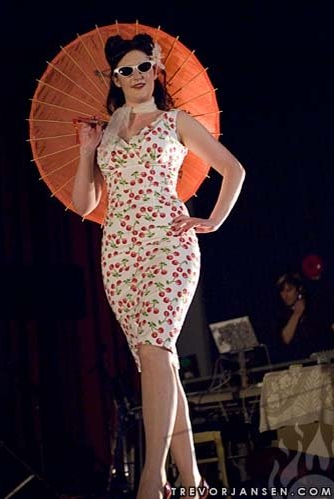 It was a fashion show like none other. The host, Crystal Precious, wore a pinup style corset made by Lace Embrace, one of the stores featured in the show. Even the audience members were dressed as if they were a part of the show; many donning retro vintage outfits paired with bright red lipstick. Moving to hit "oldies" tunes played by DJ K-Tel each store showcased their clothing and accessories in a series of scenes as if from a play.
The first models to appear were featuring articles from Scout Boutique, which specializes in women's wear, especially dresses. It is known as the destination "to buy the dress that no one else will have". The dresses were made from all different types of fabrics and each had a different pattern, from polka dots to cherries. The company displayed both day and evening dresses with articles ranging from "cute" to "sexy vixen". The store also displayed bubble and full skirts as well as beautiful summer trenches.
Next to display their items was Hotbox Accessories, which sells both men's and women's undergarments including stunning lace and sequined bras, panties, and brightly coloured briefs and speedo style men's underwear.
Third was a store called Thriller Shop which presented a variety of men's and women's clothing as well as accessories including funky hats, glasses, sunglasses, and messenger bags. The models wore an array of all sorts of everyday wear such as bright coloured hoodies, jeans, shoes and t-shirts, each of which had a unique design.
Known for its state of the art corsets, Lace Embrace, the fourth and final shop to have its models come on stage, showcased several amazing costumes from princess outfits to "sexy maid" attire. They even showed Japanese inspired kimonos. A corset was incorporated into each outfit with extremely detailed and intricate designs, one of which was a full dress corset that was made of hundreds of strips of fabric weaved together. There were corsets for every shape and size and designed to flatter every figure. In addition, the store sells shoes and accessories which you can match with your desired corset. This classic boudoir style makes one feel as if from another era.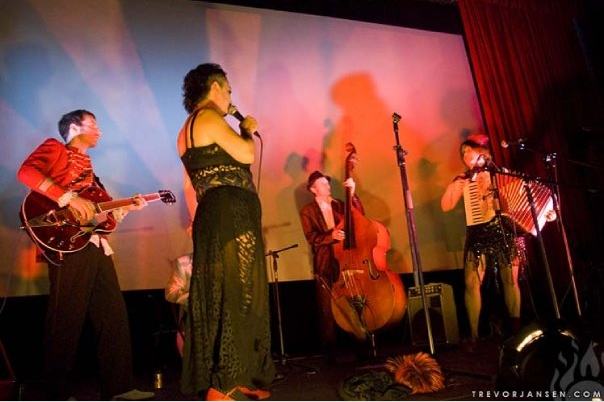 The fashion ended with a Turkish band known as "Something About Reptiles" which consisted of an electric guitarist, accordion player, upright base player, and a lead singer. Their music had the audience members up and dancing in no time and made one feel as if in a foreign country on a warm summer evening.
The show was an absolute success, full of energy and beautiful clothes. You would never get bored shopping at any of the stores featured so head over quickly before the unique items get snatched up!
Photos by Trevor Jansen