Bike The Blossoms 2009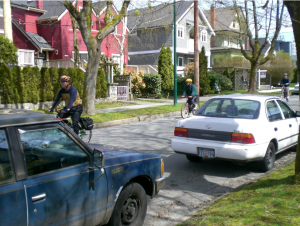 By Alicia Woodside, MMV Fitness Writer
Modern Mix Vancouver hit Bike The Blossoms 2009, as the preferred way to spend a sunny Saturday after a morning of exams. This event, organized by the 2009 Vancouver Cherry Blossom Festival and Slow Food Vancouver, offered bikers of all kinds a flower-laden bike route through the city, and many interesting stops along the way. Some of the unique events included an invitation to sample cherry blossom tea at Steep's Tea, an out of the ordinary cow-milking presentation at Kits Community Centre, and tours through the inspiring urban farming demonstration at City Farmer Urban Agricultural Centre (2150 Maple Street).
MMV's Top 6 of the Day:
1.    The worm compost at City Farmer! This was gross, but fun to peer below the lid and see what kinds of insects lay beneath! A great activity to engage in on Earth Day!
2.    The Poultry in Motion Educational Display at Kits Community Centre: This exhibit was a mobile display of the chicken-raising process, showing an exact replica of Fraser Valley chicken farms. The best part, was that the display had live chickens inside, including chickadees! (A childhood obsession)
3.    The cherry-apple scones and outdoor patio at Union Market… A relaxing, quaint place to visit for a yummy snack and to kick back. The baking samples were so good, that we needed to leave with some of Union Market's whole-wheat raisin bread. I can attest that this is also a must-try, being both healthy and sweet!
4.    Newfound love for the bike lanes on seventh and eighth avenues, which allowed us to avoid the disapproving looks garnered on West Broadway sidewalks!
5.    Complimentary bike valet: At all three major stop points along the route, the event organizers created a very thoughtful bike valet service for all participants. This was a very nice touch to the event, especially for those of us who have been the victims of bike theft on multiple occasions in the city!
6.    Best of all, the people. The event was a great opportunity to interact with some friendly and fun people in the community, who were also glad to get outside, engage in a bit of relaxed exercise, and learn about the intricacies of the food we eat.
MMV will be sure to attend next year's event, for another great day spent exploring the great people and places in our city.