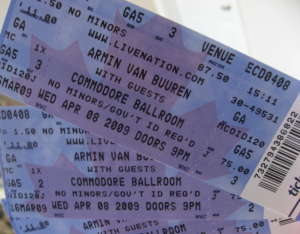 For $88 (stupid Ticketmaster charges!!), I had at great time at the Armin Van Buuren concert last night at The Commodore – my second time seeing him live in Vancouver.  1000 people united for the same cause, dancing their Wednesday night away until 2 in the morning.  Wouldn't expect anything less from the voted #1 Trance DJ of 2008 (by DJMag)!  Doors opened at 9:00pm for DJ Kevin Shui, a local Vancouverite who has previously opened for DJ Tiesto (the former #1 Trance DJ).  He was followed shortly after by DJ Jerome Isma-ae, who was playing his set when my friends and I arrived at around 10:30pm.
Armin Van Buuren opened with "Dust in the Wind" by Arnej [click here for my video] and encored with his own "Communication".  Other familiar tracks he played included "Lost" by Sunlounger featuring Zara [click here for my video], the Adam K & Soha Remix of "Need to Feel Loved" by Reflekt, and "In and Out of Love" (Richard Durand Remix).  Overall, it was a great show although "general opinion" remarked that Armin Van Buuren should have played more vocal tracks which characterizes the trance genre, instead of  the harder progressive house towards the end.
A lot of MMV readers have previously asked me why I don't incorporate more music articles onto this website.  But I can only write about what I know about – and I wouldn't be able to write a "value-added" article about anything other than electronic dance music.  To be honest, I'm waiting for the Vancouver music scene to change towards electronic dance music.  In the past year, we've had several big name DJs (and up and coming DJs) play in our city including Tiesto, ATB, Above & Beyond, Deadmau5, Fedde Le Grand ("Put Your Hands Up For Detroit") … and Kaskade is playing a sold out show tomorrow.  I can't decide if this scene is getting more mainstream or if I am just more submersed into the culture – a bit of both, I think.  For example,  Deadmau5 was nominated for a Juno Award and his track with Kaskade "Move for Me" was played for a couple of weeks on the radio. Nontheless, the trance/house/electronic scene is still a relatively small community but maybe the exclusivity of this "underground" scene is what makes it all the more fun.