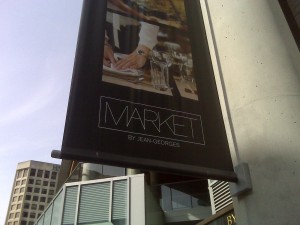 By Contributing Writer Joanna Lee
Superstar chef, Jean-Georges Vongerichten, made his debut with the opening of MARKET at the Shangri-La Hotel (Level 3 – 1128 West Georgia Street) in late January. The highly-anticipated and critically-acclaimed restaurant is Jean-Georges' first venture in Canada and on the West Coast. I had lunch at MARKET for the first time yesterday and was stunned by what I saw and ate. MARKET is certainly not overrated. The restaurant is separated into four rooms – a main dining room with seating for 84 (which was where I sat); a more casual bistro section; an outdoor patio and terrace; and the bar. Almost as soon as I stepped into the foyer did the asian-inspired theme of Shangri-La become apparent. From the crisp white shirts of servers to the music playing from overhead speakers in the washrooms, everything was so elegant and fancy. So prim and proper. I caught a glimpse of a room service cart being pushed into a back kitchen and even the setup and layout was exquisite. It was all so in sync and utterly perfect.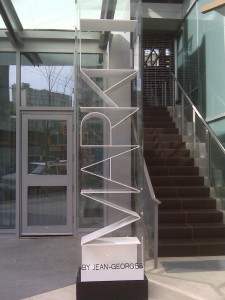 The food was even more divine. Lunch for two consisted of one tomato soup with aged cheddar, one butternut squash soup with truffles, one shrimp salad with truffle vinaigrette, pacific sole with spaghetti squash and soy-yuzu broth, and two desserts of pavlova passion fruit sorbet and assorted ice creams. I had never before seen dishes so skillfully prepared and plated as these. There was something special about each one. My favourite was the first course. I watched as the soup was poured separately into a bright white bowl where slices of truffles and finely chopped squash lay on the bottom. It was the art of pouring and I could have watched it being done over and over again. The sole, coated with what appeared to be pine nuts and seeds, came out sitting gingerly on top of a bed of spaghetti squash. It was so well-presented and aesthetically pleasing. Again, the light soy-yuzu broth was poured separately into the dish. The steamed shrimps in the salad were fresh and flavourful as it was complemented by truffle vinaigrette and champagne beurre blanc. Dessert was interesting although at this point there was definitely no room for it.
Overall, lunch at MARKET is very well-priced at $28 for three courses, and very generously-portioned. During the course of my lunch, I overheard another patron telling the staff it was her "sixth time" eating at MARKET. I can see why. It's a large menu for lunch – there's no option for a la carte until dinner. I expected a lot more in terms of price points, considering MARKET's location and the team behind it. It is heavenly and spectacular and the experience was well worth it all. The only thing I regret is not asking when the Spring menu will arrive.