R.TL – Regional Tasting Lounge
By guest-writer Kuan Ho
Modern Mix Vancouver was invited to Yaletown's r.tl (1130 Mainland Street) last week for a sampling of its new regional features.  In case you missed the first article, r.tl's menu is split into three sections, with each section featuring five to six small plates inspired from a distinct region of the world.  The featured regions rotate on a three month basis, with the exception of BC, which is a constant on the menu.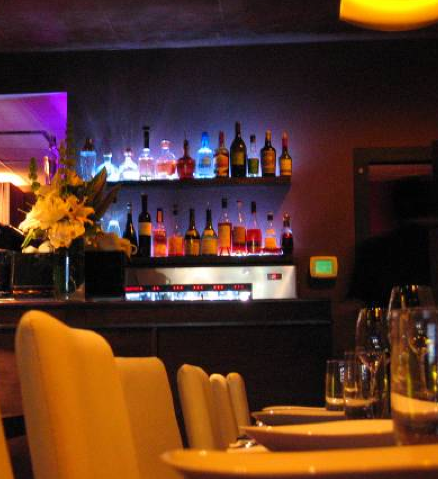 A quick peek at the menu reveals that executive chef Erik Smith has chosen Portugal and France to join BC as its regional features for the next three months.  The 50-seat establishment is chic and trendy, with dark wood furniture contrasted by contemporary white chairs.  The circular mirrors decorating the side wall are a nice finishing touch.
Before getting down and dirty with the food sampling, we decide to give the cocktail menu a try and order up some drinks.  Vanessa falls in love with her drink, the Va Va Voom.  The passion fruit juice mixes well with the Stoli Vanil, and peach liqueur, while the eggwhite gives the drink a frothy and velvety texture.  My Gin Gin Mule, which consists of Bombay gin, mint, lime juice, soda, and homemade ginger beer is crisp and refreshing.  The drink reminds me somewhat of a mojito, except that there is gin instead of rum.  With drinks out of the way, we get ready for the canapés.
Prawns Piri Piri – Pan seared wild sea tiger prawns with Portuguese chili sauce.
Bolhinos de Bacalhau – Salt cod fritters with parsley and onion saffron aioli, piri piri dip, and roasted garlic mayonnaise.
Pate au Foie Gras de Canard – Duck liver pate with pickled red torpedo onions
Nicoise Salad – Fresh micro greens, quail eggs, haricot vert nicoise olives, fingerling potato and seared albacore tuna
Dungeness Crab & Shrimp Cakes – Pacific caught crab and shrimp meat, fresh ginger roasted corn kernels and red onion relish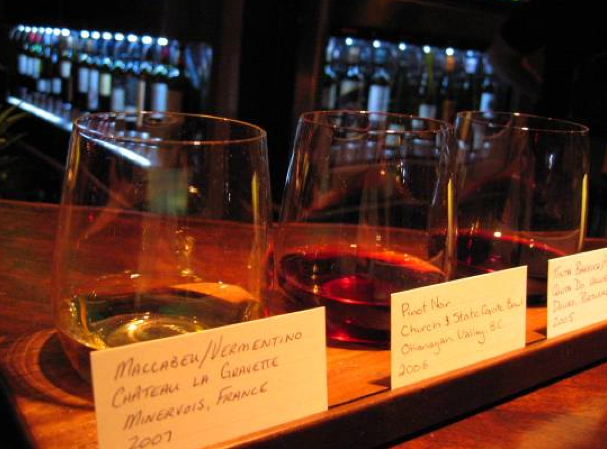 Out of the five canapés served, the crab cakes were my favorite.  I'm not usually a big fan of crab cakes, because I find that they are too salty and grainy, but r.tl's bite-sized versions are absolutely delicious.  It is easy to taste the seafood and the soft & sweet corn kernels are an interesting contrast to the salty (but not too salty) and crispy crab cakes.
Another favorite is the regional spread that came with our fresh baked bread.  Each bite seems to come packed with a multitude of flavours all layered on top of one another.  We are later told by Manager Alain Canuel that over fifty different herbs and spices from around the world were labouriously infused into the spread to create the unique taste.
Prices for each small plate range between $10 and $16 and I would recommend ordering about four to six plates per couple.  While you are there, be sure to sample from the restaurant's long list of wines by the glass or flight.
r.tl is open 7 days a week, from 5pm to midnight.