Photographs by Grace Lau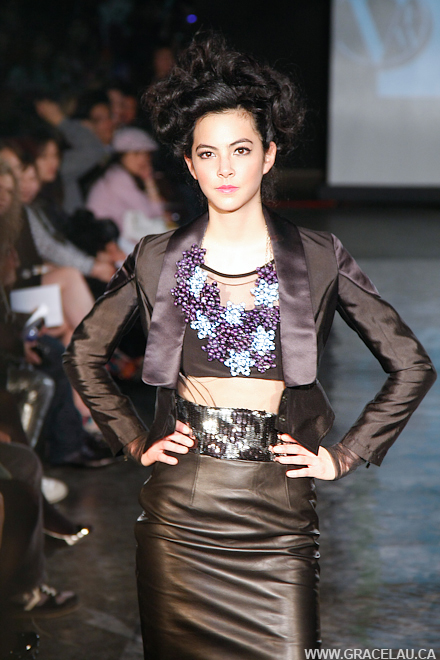 Helen Lee made her North American debut with her fall/winter collection at Vancouver Fashion Week 2009.  Entitled "Migrate", the name of Helen's latest fashion collection is derived from her Chinese name, "Li Hong Yan", which means "Returning from Migration".  Helen has put herself out there in the international fashion scene – speaking on Chinese fashion and retail at the Globe Forum conference in Stockholm, Sweden, winning "Best Designer" in the Shanghai International Young Designers Fashion Showcase (2006), named one of Vogue's Top 20 Designers in China (2007).  Helen and her work has also been regularly featured in international publications, including Vogue, ELLE, Bazaar and her was also featured as a guest designer on American's Next Top Model.
Helen's collection at Vancouver Fashion Week consisted of many black and grey pieces with an obvious attention to detail.  Decorative knots were used as fastenings while black silks were embroidered with subtle oriental detail, reminding us of her Asian design influence.  She has, with innovation, fused Asian elements with modern shapes to create pieces that are very unique in pattern, structure and form.
None of the photos may be used or reproduced without permission from Grace Lau Photography.