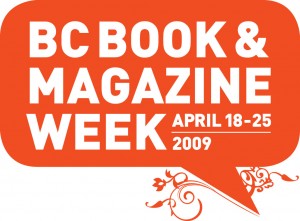 Apparently, British Columbians are bookworms. According to the press release I was sent by BC Book and Magazine Week, British Columbians are among the world's most avid book consumers and spend far more leisure time reading than is the case in any other part of the country. Spend the week of April 18th to 25th checking out the various events put on by BC Book and Magazine Week. I had the PR rep for this event help me filter through the numerous events to help me choose the events most relevant for Modern Mix Vancouver readers! 
.
Saturday, April 18, 7pm – 9pm
BC BOOK PRIZE SOIREE
Cristal Room, Metropolitan Hotel (645 Howe Street)
Celebrate the 25th annual BC Book Prizes with finalist authors and literati at the BC Book Prize Soirée. Free admission, music, refreshments and a silent auction, with proceeds going to the BC Book Prizes On Tour program.
Tuesday, April 21, 7 PM
MAGAZINE CABARET: VANCOUVER (Free)
The Railway Club, 579 Dunsmuir Street
The BC Association of Magazine Publishers and subTerrain magazine presents a literary cabaret featuring Timothy Taylor, Paul Carlucci, Emily Kendy, penny k-kilthau, Alex Leslie and Diane Tucker, who will read from their work recently published in BC magazines.

Thursday, April 23, 6 PM – 9 PM
MAIN STREET LITERARY TOUR
Main Street, Various Venues, Vancouver
Main Street is the home of dozens of artist-run galleries, quirky cafés, boutique shopping and local writers. Your neighbourhood tour guides, writer, filmmaker and performance artist Amber Dawn, and poet Jennica Harper, lead you to various Main Street hot spots for an evening of arts and literary exploration.