Vancouver Fashion Week 2009
Photographs by Grace Lau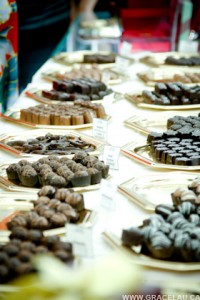 It's that time of the year again.  And with a website name like "Modern Mix Vancouver", it's only appropriate that we cover the 9th annual Vancouver Fashion Week, which kicked off with an opening gala last night at Leone (757 West Hastings Street).  The event featured a melange of fashionable designers and models who will be presenting on the main runway for the rest of this week at Storyeum (142 Water Street).  Media and photographers were highly abundant, with big SLR cameras and fast scribbles on notepads.  A widespread range of chocolates by Daniel was available for sampling with unique flavors such as chai-vanilla truffles and sea salt caramel in the shape of a milk-chocolate heart.  Wine was served in the back corner of the spacious venue as members of the fashion industry mingled and networked throughout the evening.  Jewelry and accessories were showcased on glass countertops.
A jewelry designer in particular caught my eye with her wire crochet necklaces, earrings and bundles of small semi-precious nestled Tess Klein loves color.  As a Whistler, BC resident, Tess learned how to crochet from her grandmother but has modernized the skill by crocheting jewelry instead.  Although the jewelry market is competitive, Tess points out that Whistler is an attraction for people from all around the world and her jewelry has managed to develop some loyal repeat customers.  Right now, the only Vancouver location selling her jewelry is Object Design on Granville Island, but Tess hopes to expand further into the Vancouver Market.
Another jewelry designer is Susan Kellof, who has been in the accessories industry for 18 years but just recently expanded into metal work.  With small letters and shapes stamped into silver bracelets, necklaces and earrings, Susan puts an emphasis on telling your own personal story through her work.  Each piece is custom made, resulting in a personalized piece of jewelry you can truly call your own. Susan works primarily in silver and uses a torch and a variety of hammers and marking tools to create various textures onto the silver. The uniqueness of her designs is in the story each piece tells. "Stories are the links to our own personal histories," she says. Susan honors these stories in her craftsmanship, hammering them into silver in the form of words, names, dates, numbers and symbols. The result is the creation of one-of-a-kind pieces of wearable art with significant meaning for the owner.
At around 9pm, an after-party continued the evening at Pop Opera.
None of the photos may be used or reproduced without permission from Grace Lau Photography.
The schedule for the rest of the week is as follows:
THURSDAY, MARCH 26: Canadian/Local Design
Storeyum – 151 Cordova St
4:00pm Papillon Eastern
5:00pm Gianni al Maanaki
6:00pm Porscia
6:30pm Frost Sportiva
The Centre for Performing Arts
7:00pm Aliqua in fashions from Marie Sainte Pierre
7:30pm Haight & Ashbury fashion show
FRIDAY, MARCH 27: Eco-friendly design
Storeyum – 151 Cordova St
5:00pm Hawks Ave/Flora&Fauna
6:00pm Global Ghetto Organics
6:30pm Adele Wechsler
FRIDAY, MARCH 27: Shanghai Night
Storeyum – 151 Cordova 7:30pm doors
8:00pm Boutique Show: Lushuz, Niche, Tokyo Cop, 4th Ave, Remix
9:00pm Helen Lee
SATURDAY, MARCH 28: International
3:00pm: SoulFace Studios/Vixen Little/Factory Femme
3:30pm: Turnover
4:00pm: Lauren Vidal
4:30pm: Joseph Domingo
5:00pm: Helen Lee
5:30pm: Clothilde
6:00pm: Malene Grotrian
SUNDAY, MARCH 29: Streetwear
4:00pm: To The Nines Clothing/ Luminel Couture
4:30pm: Gully Klassics
5:00pm: Civil Society Clothing
5:30pm: Undone Clothing
6:00pm: Drew William
6:00pm: KILLA