Vancouver Playhouse Wine Festival 2009 (March 23rd to 29th)
By Guest-Writer Kenneth Law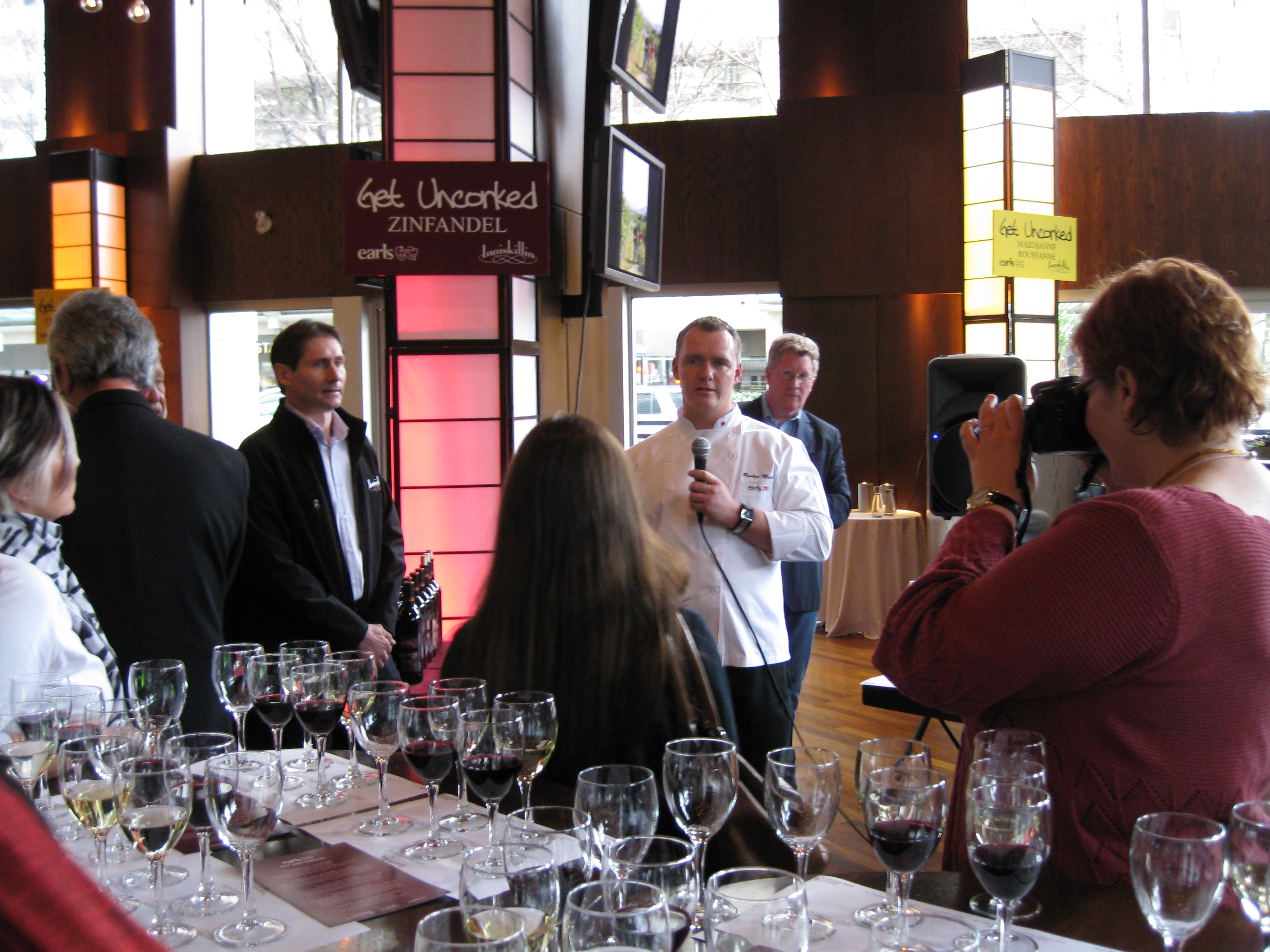 So far, so good. One of the first events of the 7 day Vancouver Playhouse Wine Festival (2009) went smoothly and helped to set the tone for the remainder of the week. Five sample wines each paired with its own respective dish was served to a densely packed, mostly standing-room only crowd, while Earls' head chef Reuben Major and Inniskillin Okanagan winemaker Sandor Mayer pontificate on the individual samples (Icewine from Tempranillo: A strange mix), the fading elitism of wine ("Wine is about having fun everyday"), and the rising popularity and international respect of BC wines (Not Spain, but close enough).
I am not a wine buff by any means, but it does seem as though they covered a small but good spectrum of different wine varietals and the pairings were excellent. Here is the menu with some quick initial thoughts and commentary I have:
Wine List
Inniskillin Okanagan Discovery Series Chenin Blanc

A particularly sweet tasting wine. Easy to drink.

Inniskillin Okanagan Discovery Series Malbec

Strong and notable for its texture and depth. Seemed to be the most well liked and "deepest" of the selections.

Inniskillin Okanagan Discovery Series Zinfandel

A very easy wine to drink, what one would call a "party wine".

Inniskillin Okanagan Discovery Series Marsanne/Rousanne

Dry, yet seemed to be more fruit flavored than the Chenin Blanc

Inniskillin Okanagan Discovery Series Tempranillo Icewine

My personal favorite, though it tasted more like grape juice than wine and was extremely sweet. Probably an easy way to get spotted as an unseasoned wine drinker…
Menu
Scallop & Grapefruit Ceviche paired with the Chenin Blanc
Sake Brined Salmon paired with Marssanne Rousanne
Jasmine Tea Duck breast with Quinoa salad paired with Zinfandel
Shortrib Crostini paired with Malbec

Amazing dish, seems to be better paired with the Zinfandel, but the Zin goes well with a lot of things

Pear & Gouda Tarte Tatin paired with Tempranillo Icewine
Other highlights include the excellent catering from Earl's own staff, and of course the lovely "Miss Malbec".
There are still tickets left to be had here should you be so inclined to check out the rest of the week's festival.