By: Alicia Woodside, Fitness Writer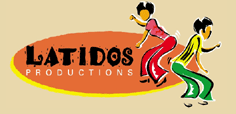 What do YOU do to get the weekend started?  This past Friday, I had a memorable kick-off to my weekend, with an energizing, upbeat Rumba class at Latidos Productions Dance Studio on Davie and Granville. As the sun set on Vancouver's downtown core and the Granville Strip awaited its usual crowds, Chen Lizra of Latido's taught a group of excited, enthusiastic women how to add "sabor" or seduction to their dancing, through the unique Afro-Cuban dance of Rumba.
Rumba: A Playful, Seductive Dance-Off
In the most popular form of Rumba, a man and woman square off against one another, in a playful, one-of-a-kind battle. While the woman seductively teases the male dancer through her flirty hips and twirling skirt, the male dancer's objective is to catch her off-guard and "impregnate" her, with the simple wave of his handkerchief or thrust of his hips. The woman must constantly stay alert to block the man's "attack", but never show fear. Most entertaining about the Rumba is the woman's constant teasing of the man throughout the entire dance. If she does "block" the man's attempt, the dancer immediately goes right back to teasing him through her movements.
During the hour-and-a-half class, Chen's participants encountered a great toning exercise, a boost in confidence, and a new-found knowledge of Cuban culture in the process. The dancers inevitably learned a trick or two to seduce on the dance floor, as well! It was a ton of fun, and definitely a great activity to get anyone's weekend underway.
For more information about Latidos Productions and the great mix of Cuban dance classes available, visit them online at latidosproductions.com.