Despite the crazy Vancouver weather, spring is almost upon us and that means getting rid of the heavy winter parkas and exchanging them for a lighter option.  Ironically, this new piece in my wardrobe came from raiding my mom's closet before she left on vacation.  A black, three-button tailored, "longer-than-average" BCBG blazer which can only now be labeled as a "boyfriend blazer".
Occasionally described as retro or vintage, my personal description of The Boyfriend Blazer is more "stylish corporate".  This fairly new label in the fashion world allows a casual outfit to be dressed up with added style, without feeling out of place.

How to wear "The Boyfriend Blazer":
The Top – with a graphic t-shirt will give your outfit a more casual artsy look.  I wouldn't suggest wearing anything too "cutesy" underneath – otherwise you will look like an oversized child playing dress-up with her father's blazer.
The Bottom – if you are wearing denim, make sure they are skinny jeans (I support straight leg would work as well…) to offset the slouchiness of the lengthier blazer.  Otherwise, your outfit will look sloppy and baggy as opposed to a streamlined ideal.  High-waisted jeans would work as well.  If you're wearing a skirt instead, make sure the cut ends above the knees.  Otherwise, the layers are too elongated with a long blazer and a long skirt.
The Dress – play around with lighter, silky materials and use the blazer as a jacket.
The Feet – high heeled pumps and pointy shoes all the way!  I was told that gladiator sandals would work too – but I am personally not a big fan of them.  If you're wearing skinny jeans, pair them like usual with boots.
The Sleeves – if you want to show off some jewelry – roll up the sleeves!  Perhaps some chunky gold bangles to contrast a dark-colored blazer.  Feel free to play with different textures of jewelry.
Where in Vancouver to buy "The Boyfriend Blazer":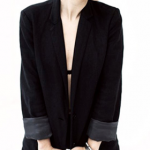 Wilfred Linen Boyfriend Blazer from Aritzia
$225.00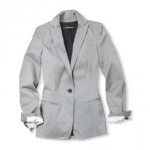 Club Monaco "Abbie" Boyfriend Blazer from Club Monaco
$199.00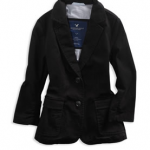 American Eagle Boyfriend Blazer from American Eagle
$59.50 (USD?)
• Soft sturdy stretch cotton
• Perfect feminine boyfit
• Two large front flap pockets
• Pinstripe interior lining
• Inside button-close pocket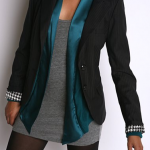 Silence & Noise Boyfriend Blazer from Urban Outfitters
$68.00 (online only)
• Polyester and Rayon
• Color: black shadow
• Exclusive to Urban Outfitters