L'Oreal Double Extension Beauty Tubes Mascara.  Phew.  That was a mouthful to say.  I was once again invited to participate in a word-of-mouth marketing campaign with Matchstick.
Similar to the Harajuku Lovers and OB Tampons campaign, I was sent a swag bag full of products.  This time, it included a L'oreal makeup bag, a quadrant of smokey eyeshadow shades, black eye liner, a make-up brush for eyeshadow application, and, of course, two tubes of L'Oreal Double Extension Beauty Tubes Mascara.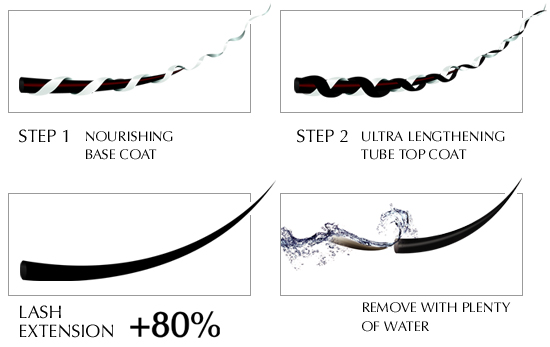 The product's tagline and selling point is "get the look of salon lash extensions with mascara".  Basically, on one end of the mascara, there is a nourishing (but also lengthening) base coat which reminds me of putting some kind of white, creamy moisturizer on my eyelashes.  Then, on the other end, a "tubing" top coat forms "lash-extending beauty tubes" on your eyelashes.  Promotional materials for this product claim that there is no smudging or clumping and that the mascara is waterproof.  However, amazingly enough, the product washes off with warm water.  Easy peasy – no make-up remover or rubbing.
Yes, the mascara does noticibly lengthen your eyelashes, and yes the only available shade of black is all-around flattering.  However, you will have to budget a bit more time in your morning because of the "double" aspect of the product.  Not something you want to use when you're in a rush.  It's not only one coat of mascara to worry about – for the full effect, you now have to put on the base coat too.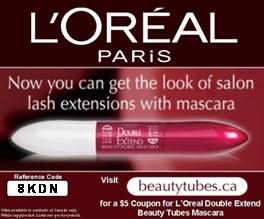 However, there is something about this product which doesn't make sense to me.  There is much promotion around the convenience factor of simply washing away the mascara with warm water and not needing make-up remover.  BUT, the question is – what if I am using this mascara with other eye products (ie. mascara, eyeliner) which DO require make-up remover to remove?  Then the convenience of having to only use water to remove the mascara is canceled out by the other beauty product brands I am using.  This mascara is best removed when you are washing your face in the shower.  When I used oil-based eye make-up remover with the L'Oreal Mascara, it only half flaked off in clumps, and not in a very clean method.  My suggestion is to only use this mascara when it is a "mascara-only" day and to not pair it with other eye makeup.
All in all, the L'Oreal Double Extension Beauty Tubes Mascara (they really have to do something about the long name for marketing and promotional purposes) is a solid product.  I like it, but I don't love it, but I'm glad I tried it.  The price is $15 (with an additional $5 off coupon code "8KDN" exclusive to Modern Mix Vancouver readers).  And compared to other "tubing" mascaras such as Kiss Me, the price point is relatively affordable.  And especially compared to brand-name mascaras (Dior, Lancome, etc.), this is a value purchase.  But at the same time, there are other drug-store make-up brands which work just as well in terms of eyelash volume and length.  It's the "tubing" and "wash off" attributes which sets the L'Oreal product apart, but if you can't find convenience in that, then there is less product differentiation.