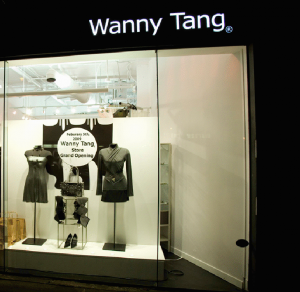 By Guest-Writer Megan Hui
Walking towards the new Wanny Tang Boutique (2029 West 41st Avenue) in Kerrisdale, it felt as though there should have been a red carpet leading the way to its crystal clear glass front doors. The sky was a midnight blue and the lights from inside the boutique beamed through the windows, catching the gaze of every passer-by. Inside was buzzing with conversation. Cameras were flashing, music was playing, and excitement was building as everyone awaited the in-store fashion show for Wanny Tang's spring collection in her recently-opened boutique.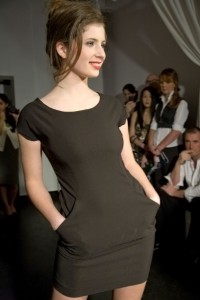 The designer of the collection, Wanny Tang, started off as a graphic designer and eventually transferred her talents to the fashion design industry. Her inspiration for this spring's collection came from frustration and ideas of simplicity which were embodied in her fashion show. The first half of the show featured pieces made only from single sheets of fabric with geometric cutouts; no sewing was involved. Continuing with the idea of "playing with simple things", the second half of her show displayed articles with classic, simple designs, beautiful fabrics, and stunning colours.
As the DJ switched the track and a slow paced song filtered through the air, everyone quieted down. Suddenly the senses were being tantalized all at once. The sound of the music, the smell and taste of champagne, the touch of silk against the skin…and finally, rich colours were seen everywhere as the models began their performance. Deep shades of purple and mauve, splashes of bright colour, and a mix of neutrals were displayed in the colour palate of the new spring collection.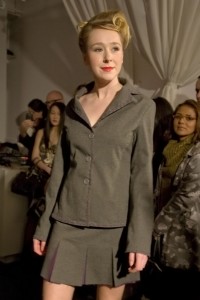 The show began with very edgy pieces featuring geometric cutouts and sporty stretch fabrics. As the show evolved, so too did the clothing. Soon suits began to appear. Sophisticated, but updated with a modern twist, the dark skirt's of each suit revealed peaks of colour from between their pleats. The show continued to evolve. Now, with the models donning red lips and volumous up-dos, the audience was brought back to the classic starlet era of old Hollywood. There were long, draping white gowns, beautiful cowl neck and wrap dresses (which you could wear several different ways), and, of course, different styles of the classic LBD (little black dress) à la Audrey Hepburn.
The boutique also carries many different accessories including a variety of shoe styles (from suede ankle boots to patent leather pumps to oxfords), beaded necklaces, scarves, bags, and beautiful leather-bound journals.
Photographs by Peter Jensen