MAC Cosmetics – Hello Kitty Collection
"When innocence meets MAC, anything can happen… Be transformed with the mild-go-wild shades, lashes and too chic-to-be-cute accessories of this special-edition collection."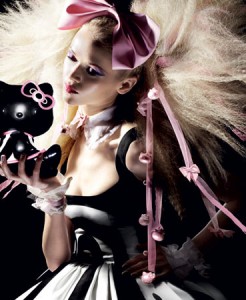 If you've been eagerly anticipating the launch of the MAC Cosmetics Hello Kitty collection, the wait is over.  Rumors have been popping up since late 2008 about the arrival of this kitty cat's debut in the MAC Cosmetics line up and finally arrived in Canadian stores on February 10, 2009.
Hello Kitty is one of the best-known cartoon characters produced by the Japanese company Sanrio.  First introduced to Japan in 1974, this little kitty with her iconic red bow, has congregated a cult-like following.  But as of late, strategic partnerships with Victoria Couture (a Parisian line with the license for Hello Kitty) and Toki Doki, Hello Kitty has grown up with an appeal to women around the world. 
The MAC collection is standard – with the usual lipsticks, lipglass, nail polish, eyeshadow pallets and blush.  Although you would expect the colors to be the ultimate mecca of pink girliness (or "girl worlds collide") with lipstick ($16.50) colors like "big bow" and "cute-ster" and glitter eyeliner ($20) in "girl groove" and "glitterpuss" there are some surprising shades of dark purples and a burnt orange color in the limited edition "Lucky Tom" eyeshadow quadrant.  In my opinion, the most cat-like product in the collection is the "Hello Kitty Lash" ($14) which are false eyelashes in a criss-cross pattern with an overlapping effect on the outer corner, providing you with "big, wide, kitten-eyes".
That being said, why is Hello Kitty reverse-colored black in all of the promotional materials for this MAC Cosmetics line!?  What happened to the simple outline of a cat's head and her red colored bow?  It appears that in the MAC Cosmetics line, Hello Kitty has taken on a new look which can only be described as punk rock gothic glam.  Even the packaging for this collection is focused on black which means the playful cutesy innocence that the character is known for has evolved…
Anyway, more than anything else, I think the Hello Kitty MAC Cosmetics line is positioned to be collectors' items as an extensive list of additional accessories can be purchased alongside the cosmetic products.  These range from makeup bags ($26.50) to plush dolls ($50) to a brush collection ($58) and bracelets ($40).  Word on the street is that if you are planning on spending over $50 at a free-standing MAC Store, you will recieve a free Hello Kitty tote bag to carry all your new purchases.