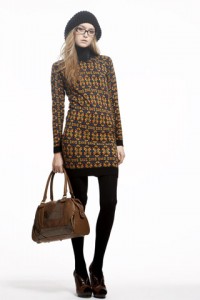 The Challenge: "To reinvent, according to our individual styles, an upscale designer look with either locally designed pieces or items available in vintage and consignment stores. "

For the Granville Online Eco-Fashion Challenge, I went to Changes Clothing and Jewelry Bar (4454 West 10th Avenue) for my one-stop fashion needs. Upon arrival, I was greeted by Emma Pritchard, the sales manager who has worked at Changes for eight years. Emma was my personal stylist for the next hour or so as we ran around the shop picking out pieces to best reflect the look by Nicole Miller. Here is what we came up with:
Slouchy knit hat by local knitter Lynn Meacham. Black with a white/grey border. Also available in other colors including purple. $10.50
Brown and tan striped dress with scrunchy sleeves and a brown satin collar trim. Consigned to Changes clothing from the boutique "Out of the Blue", located in Winnipeg. $19
Black leggings with bronze sparkles. $23
Dark brown peep-toe shoes. $29
Leather Roots bag with an interior pocket and zippered pouch. $99
Total Cost: $180.50
To see the rest of the looks from the Eco-Fashion Challenge, click here.